We felt honored having a musician of your professional caliber perform at our festival. Both the children and adults enjoyed your wide repertoire of songs and musical instruments. Your rapport with the children was especially meaningful.

– Sue Helms, De Kalb North Arts Alliance, GA
Jon Sundell is a ONE MAN FOLK FESTIVAL.  Folksinger, storyteller, square dance caller and balloon twister, he has 45 + years of international experience performing for and leading all ages and cultural backgrounds – in both English and Spanish. Festivals get a lot of bang for their buck by engaging Jon to serve in multiple capacities.
CONCERTS:  In festival settings Jon can perform for adults or general audiences on a main stage and/ or for children and families in the children's area. With guitar, banjo, autoharp, mountain dulcimer, ukulele and spoons for accompaniment and a mix of stories and songs that play off each other, he provides plenty of variety to hold an audience's attention.
More than just a presenter of folk songs and tales, Jon is a raconteur and seasoned entertainer, and he tailors his performances to each group. Children's performances include plenty of opportunities for participation – through singing along, movement and verbal responses of different kinds. They sometimes include a puppet or two or some "twist-and-telling" – creating a balloon figure as he tells a story.
Concerts for adults and sometimes for children are usually built around the familiar core of Southern Appalachian songs and tales. Depending on the audience and setting, they may stay local, light and lively;  delve deeper into traditional mountain folklore; and/or branch out into other cultures and places.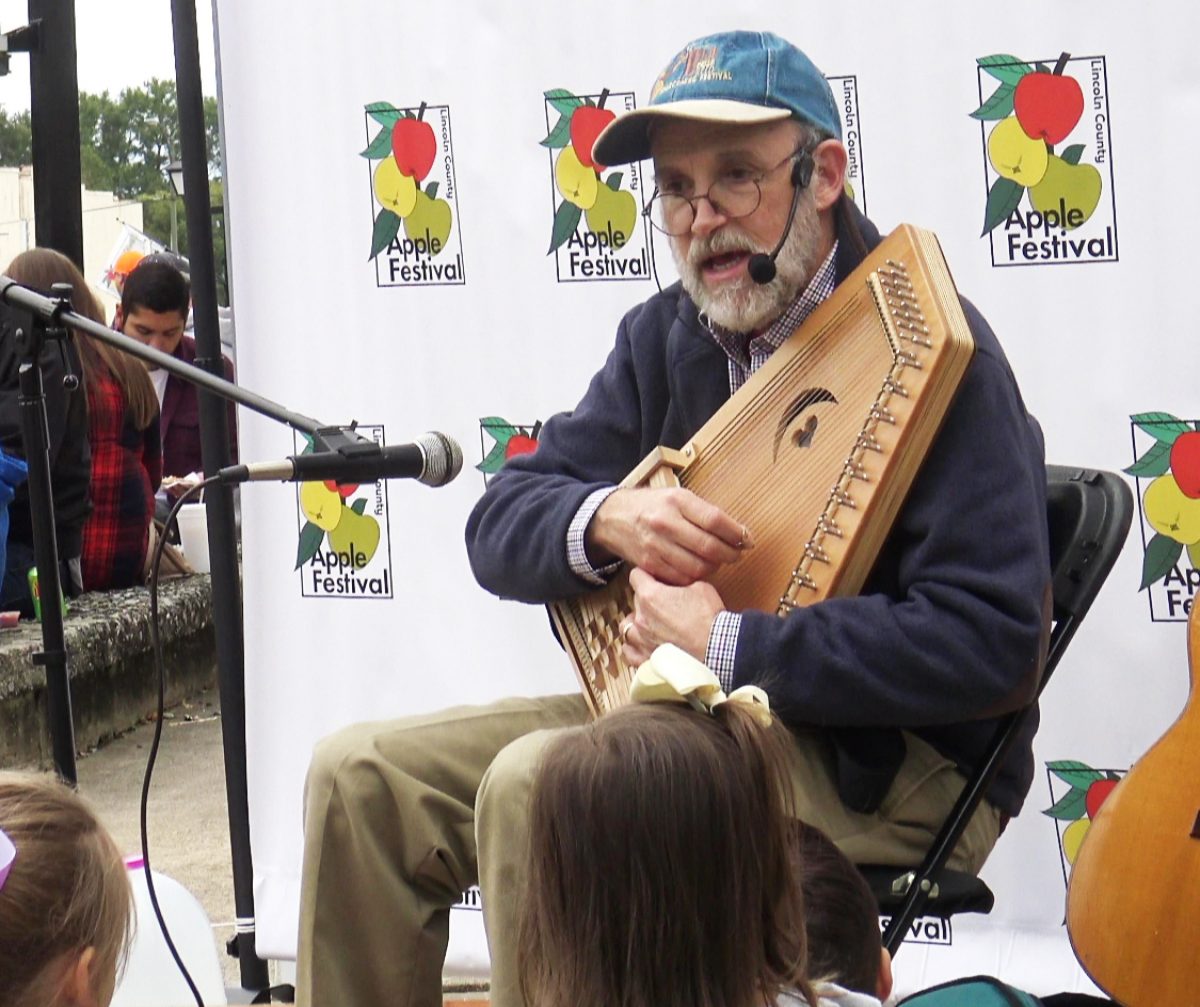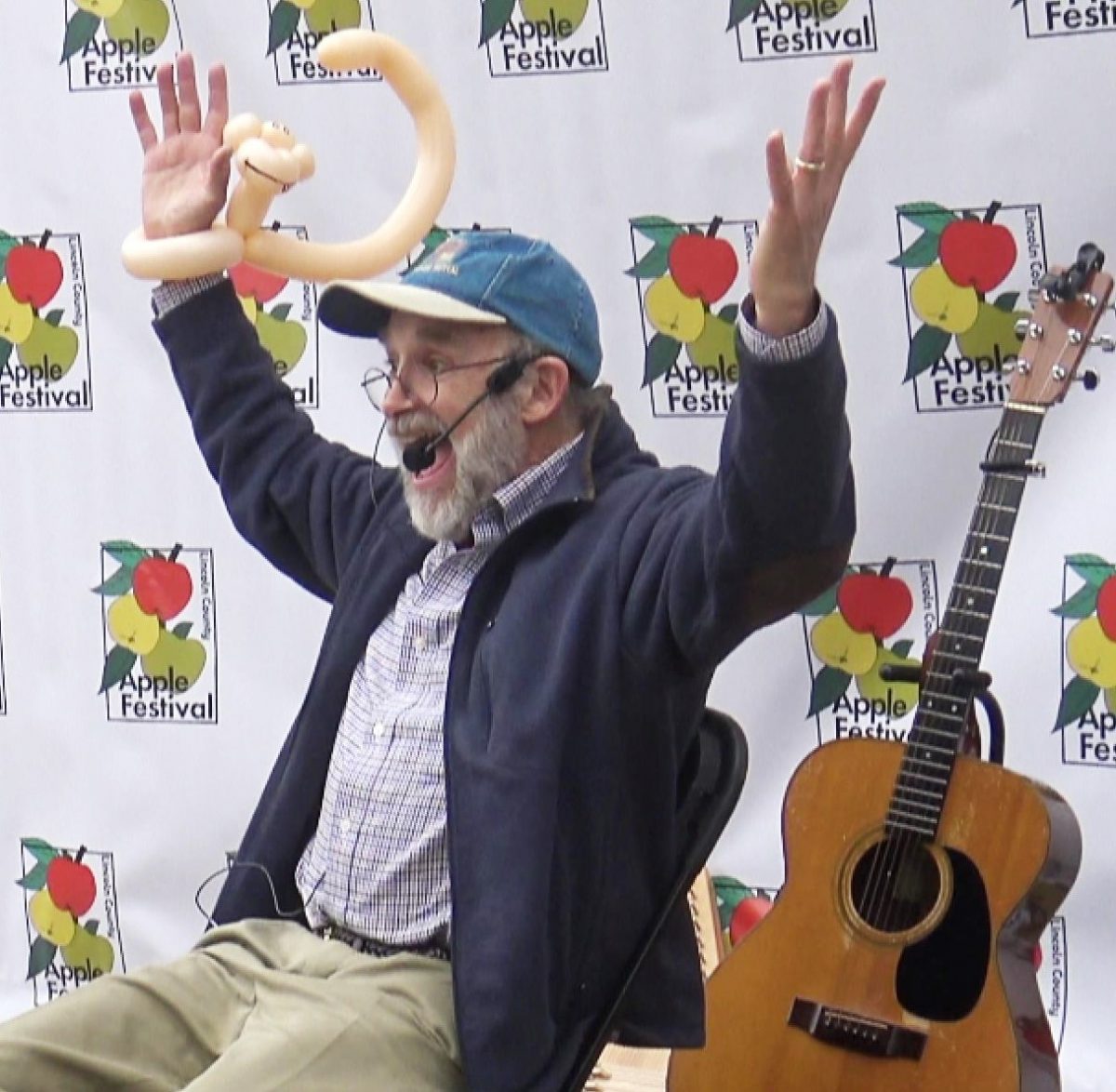 Song and story excerpts for children & families representing folklore from the Appalachian Mountains and surrounding areas. (Multicultural folk tales can be heard on separate video sampler) All are typical of Jon's programs for children and families, but he also uses these tales in programs for adults. (1) TALL TALE WITH BALLOON FIGURE: "Daniel Boone and the Split Dog"; (2) "I Wish I Was a Mole In the Ground" - Appalachian folk song, with banjo, including children making up a verse; (3) "On My Grandma's Patchwork Quilt" - folk song by Larry Jennings, motions by Jon Sundell, with guitar; (4) STORY SONG: "Cumberland Mountain Bear Chase & Old Blue," with banjo; (5) "Waterbound and I Can't Get Home" - Appalachian folk song,
with mountain dulcimer; (6) "Turkey In the Straw " folk song, with spoons, including short spoons lesson; (7) IRISH FOLKTALE: "Jamie O'Rourke and the Big Potato," version adapted from picture book by Tomie dePaola; (8) "When I First Came to this Land" - folk song by Oscar Brand, with autoharp.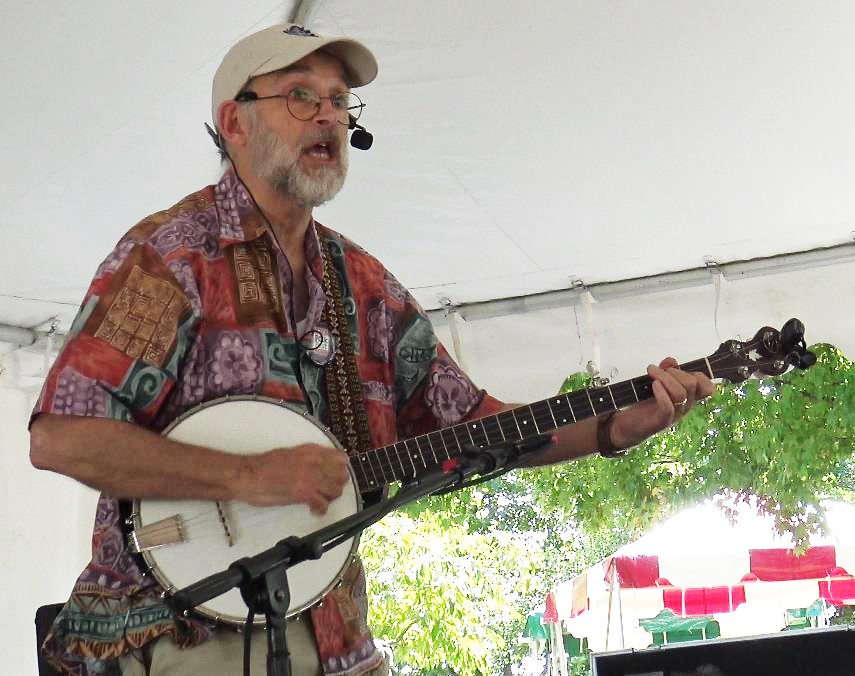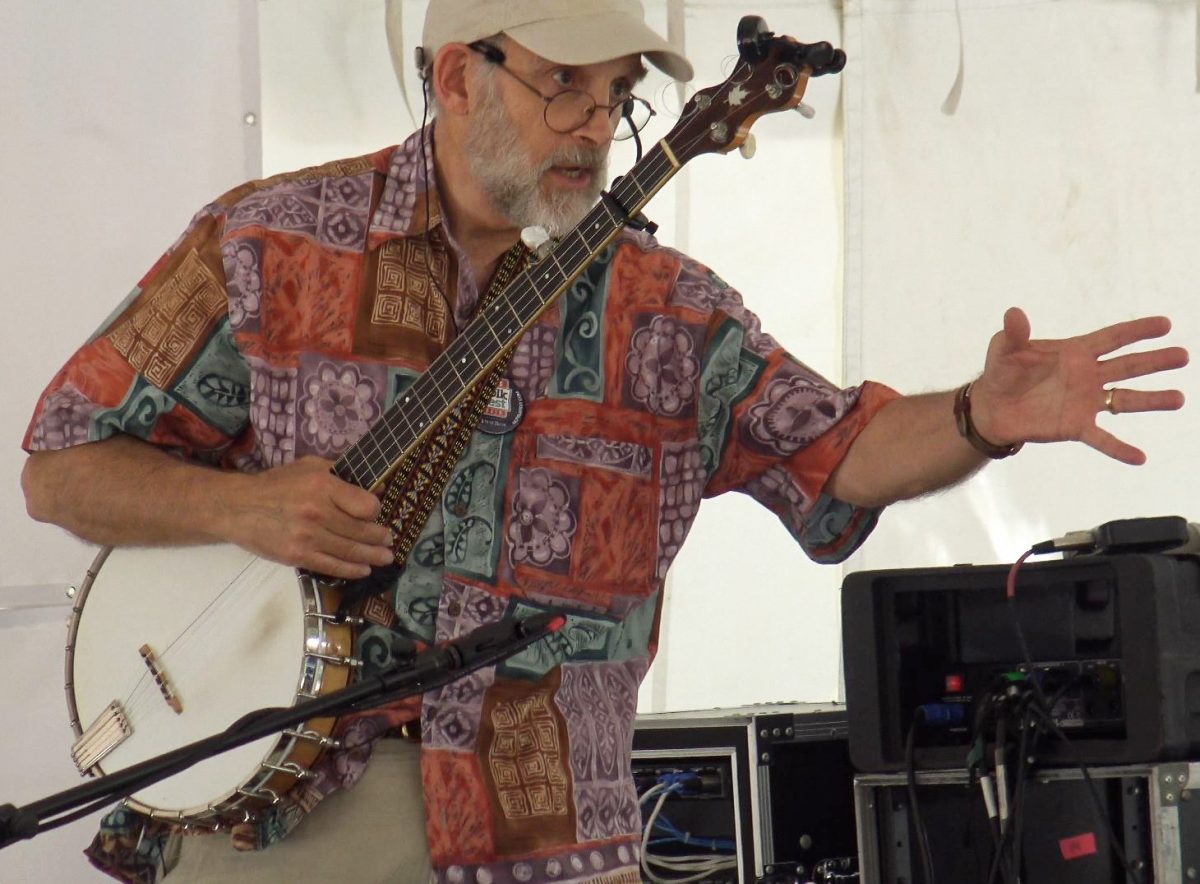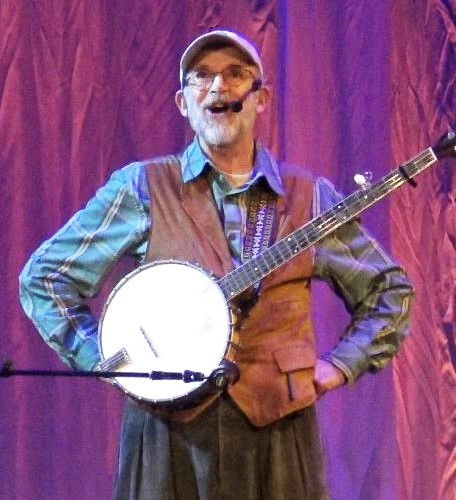 MULTICULTURAL SONGS & TALES FOR CHILDREN & ADULTS. The first three numbers are geared toward children. (1) "We're All a Family Under One Sky" - call & response song by Ruth Pelham with a second verse added by Jon from picture book, Bein' With You This Way, by W. Nicola Lisa, with guitar ; (2) ANIMAL FOLKTALE: "Anansi and the Pot of Beans" (AKA Anansi and the Hat Shaking Dance); (3) "En la pulga de SanJose" - Latin American folk song in Spanish, with guitar; The fourth number is good for any age. (4) TURKISH WISDOM TALE: "Nasrudin Hoja's Fine Coat"; The last two numbers are geared toward older children & adults. (5) "Something In the Rain" - song by Tish Hinojosa, with guitar; (6) "Somos el barco" - bilingual folk song by Lorre Wyatt, with guitar + John McCutcheon on hammered dulcimer.
Many people are adept at playing musical instruments, but you have a special gift to  hold an audience. There was never a lull in the audience's attention during the entire performance. 

- Melba Aberson, Dunwoody Hills Country Club, Dunwoody, GA
A short selection for adult festival audiences of songs & tales from European American tradition. Tales & story-song on Mountain Heritage sampler are also frequently used with adult audiences. Multicultural material is featured on the sampler of Multicultural Songs & Tales for Children and Adults. (1) "Keep On the Sunny Side" - folk song popularized by the original Carter Family, with autoharp; (2) "The Devil and the Farmer's Wife" - Appalachian ballad, with banjo; (3) TALL TALE: "The Cajun Possum"; (4) "Little Birdie" - Appalachian folk song, with banjo; (5) "The Cumberland Land" - traditional ballad, as sung by Dee Hicks, unaccompanied; (6) "Starving to Death On a Government Claim" - midwestern folk song, with guitar; (7) FOLK TALE: "Steamer and the Mule Egg," adapted from telling of Doc McConnell; (8) "Eight More Miles to Louisville" - country song by Grandpa Jones, with guitar.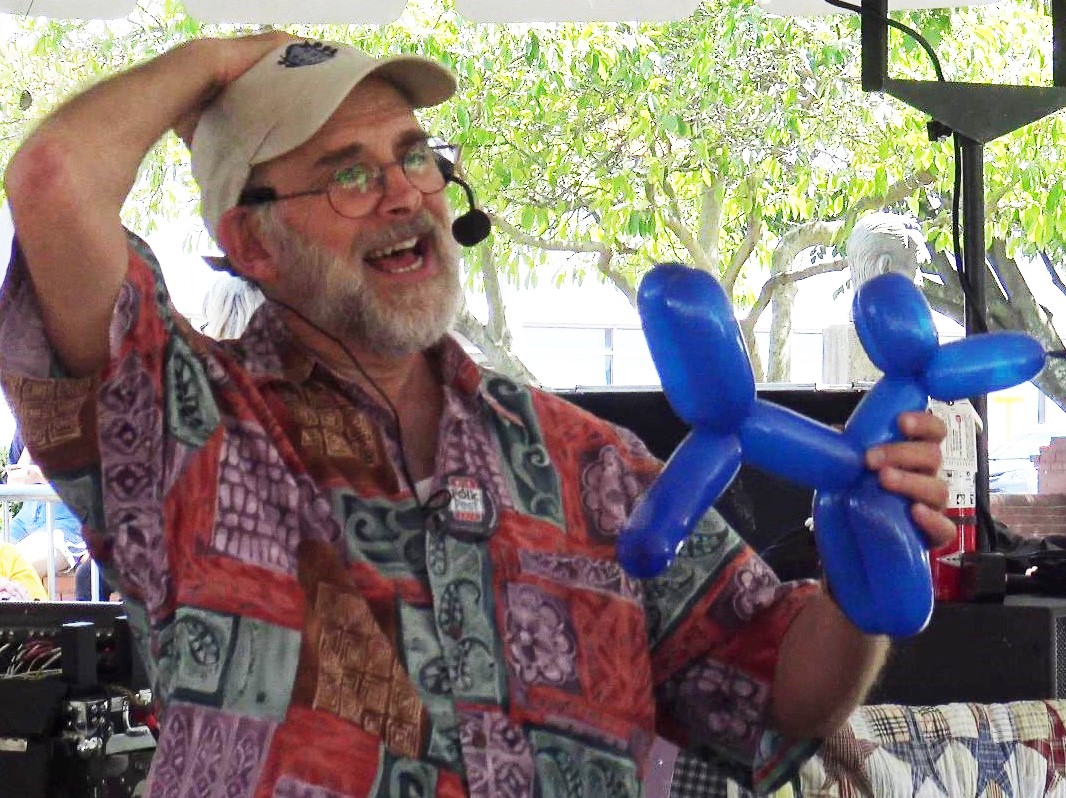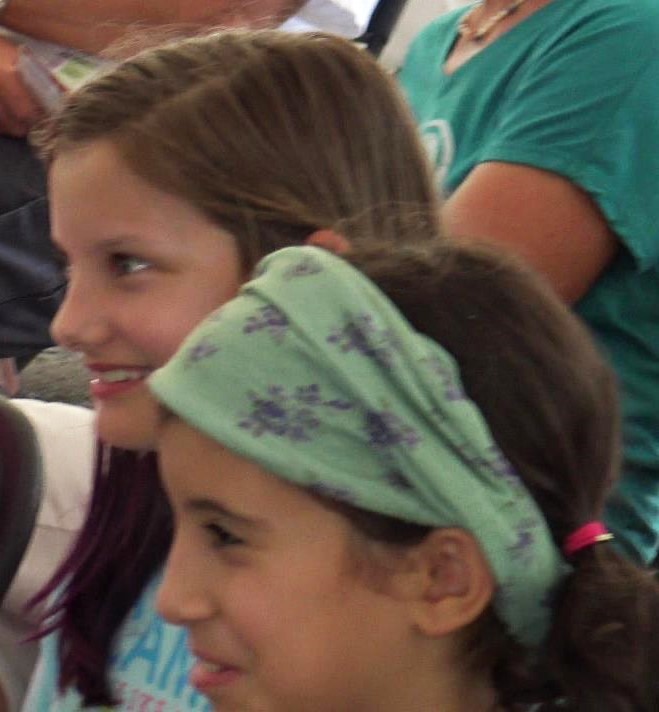 BALLOON TWISTING: At festivals it works nicely to have Jon tie together children's shows with balloon twisting. During the performance, he includes some "twisting-and-telling," creating a balloon figure as he narrates a related tale. After the show children can get a personal balloon matching one of the story figures.
This combination works handily to not only spice up the presentation but attract and reward his audience. Signage, schedules and/ or announcements let people know that kids who attend his set will get a personal balloon afterwards. Kids enjoy seeing the balloons being created as the story unfolds. Getting their own balloon at the end is an extra treat – icing on the cake, you might say! Jon's wife, Vivian, usually helps him with the balloon making. The festival can either pay Jon for the balloon twisting or issue a complementary booth for his wife and him to sell balloons throughout the day. Attendees for the show receive a coupon for a free balloon.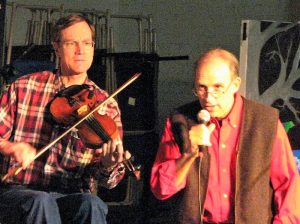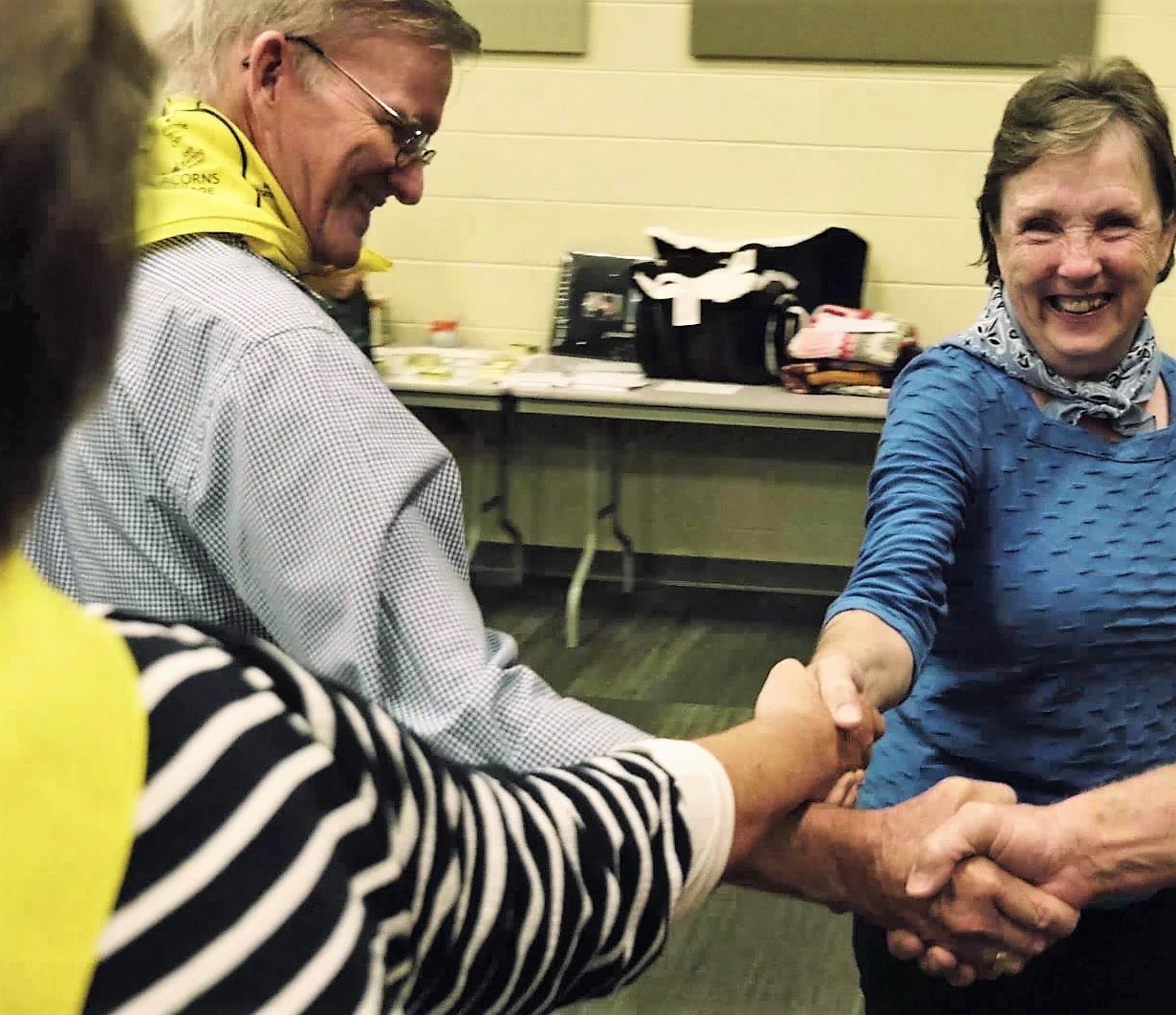 SQUARE DANCE CALLING: Square dancing adds immensely to a festival by both representing an important tradition from the past and invigorating festival-goers' experience in the present moment. The combination of lively music, physical activity, and social interaction is great for lifting spirits and creating a feeling of unity. A dance caller since the 1970's, Jon specializes in simple old time mountain dances, and he enjoys teaching complete beginners, although those with experience are certainly welcome.  His style is very animated and hands-on, often leaving the stage area to demonstrate moves or assist couples through them.
Dancers love the challenge and physical interaction of working together to perform the different figures, while moving to the exuberant sound of old timey or bluegrass string band music. Children who are 8 or 9 years old or more can usually participate along with the adults. Jon can bring a string band to the festival or work with a band that is already booked to perform. Participants go home with a special skip in their step from having participated in this great event.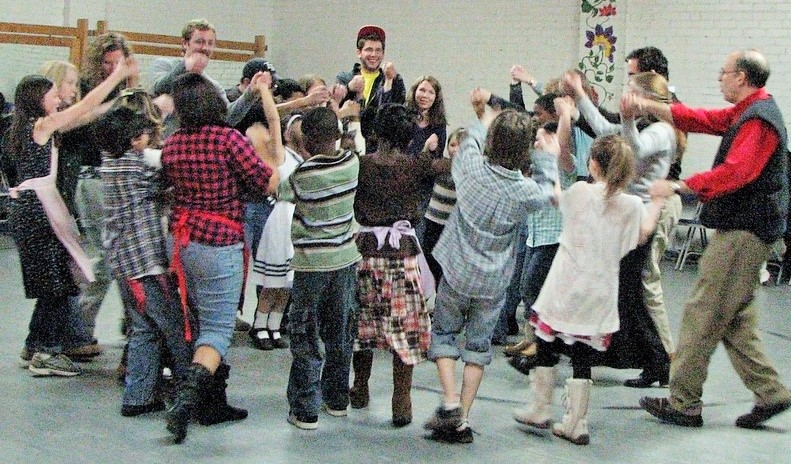 We enjoyed Jon Sundell's entire performance.  The music and stories were a delight to young and old. The evening was topped off by some great old time square dances and circle dancing that left the audience wanting to come back for more.

– Spike and Margaret Owen, Canterbury House, Western Michigan University, Kalamazoo, Michigan
Video sampler of Jon leading North Carolina square dances for seniors and staff at YMCA Camp Cheerio and Camp Caraway Retreat Center. Introductory photos are from an elementary school family event. The band is shown playing at Camp Caraway. Sequences 1 & 2 give a good view of how Jon starts off a group from scratch and gives them basic instruction. (1) Thread the Needle Warm-up dance (no instructions needed); (2) Appalachian Big Circle Dance, with "Right & left hand star" and "Birdie In the Cage" figures. Fairly complete instructions shown + dance excerpts with music; (3) Virginia Reel - Fairly complete instruction shown + two turns of the
dance with music. Jon uses a humorous touch to get the side couples assisting the lead couple. He also steps in to help the 2nd lead couple when they get lost. (4) Dip & Dive - Partial instruction shown + one turn of dance; (5) Appalachian Big Circle, including "Take a Little Peek" and "Mountaineer Loop" figures in small circles & "Thread the Needle" as a big circle wrap up. No instruction shown. One turn each of small circle figures shown + excerpt of wrap up. Notice the shot of audience members clapping along - everyone joins in the fun!; (6) Last waltz. This is done free style without instruction.Seniors especially enjoy doing an old fashioned slow dance. This couple certainly does!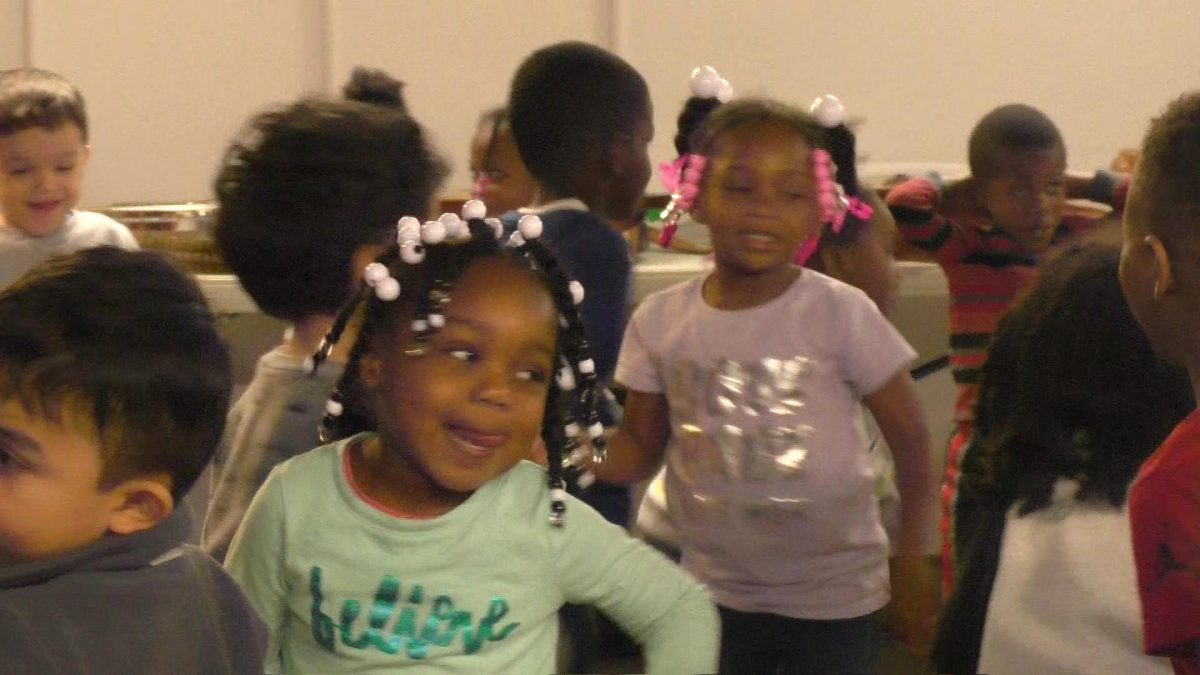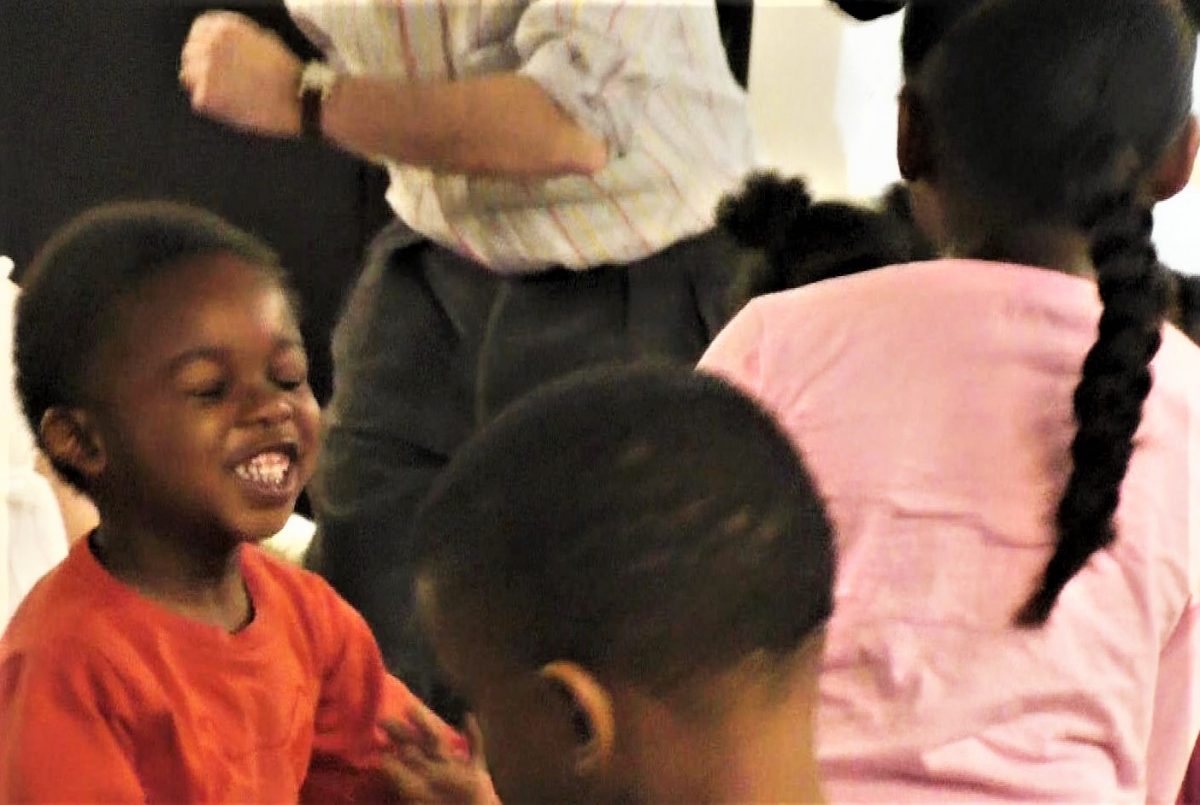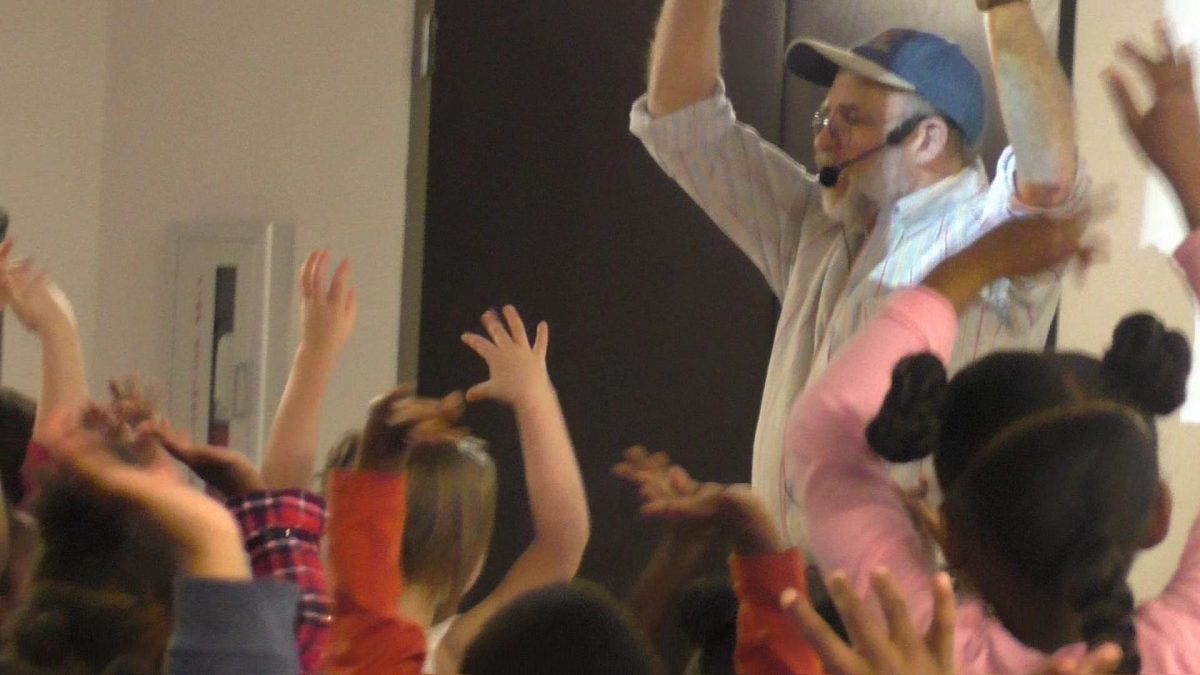 INTERACTIVE WORKSHOPS:        
Singing games:  In these traditional music games children dance very simple figures while they sing a matching folk song, such as "Old Dan Tucker," "Oh Susannah," or "Let's Go Zudio." Some are done without partners & others with them. Best for 4-9 years.
Storytelling Games – By experimenting with storytelling in the form of different games, participants can relax and enjoy this activity with less performance anxiety and more fun. Age 8 – adult
Sharing personal and family stories – Using common life events and challenges as prompts, and incorporating Jon's suggestions to shape and dramatize their tales, participants share personal anecdotes in small groups.
Playing the spoons: Participants learn how to hold a pair of spoons, tap out simple rhythms between the free hand and leg, and make a roll down the open fingers of the free hand.  Age 6 – adult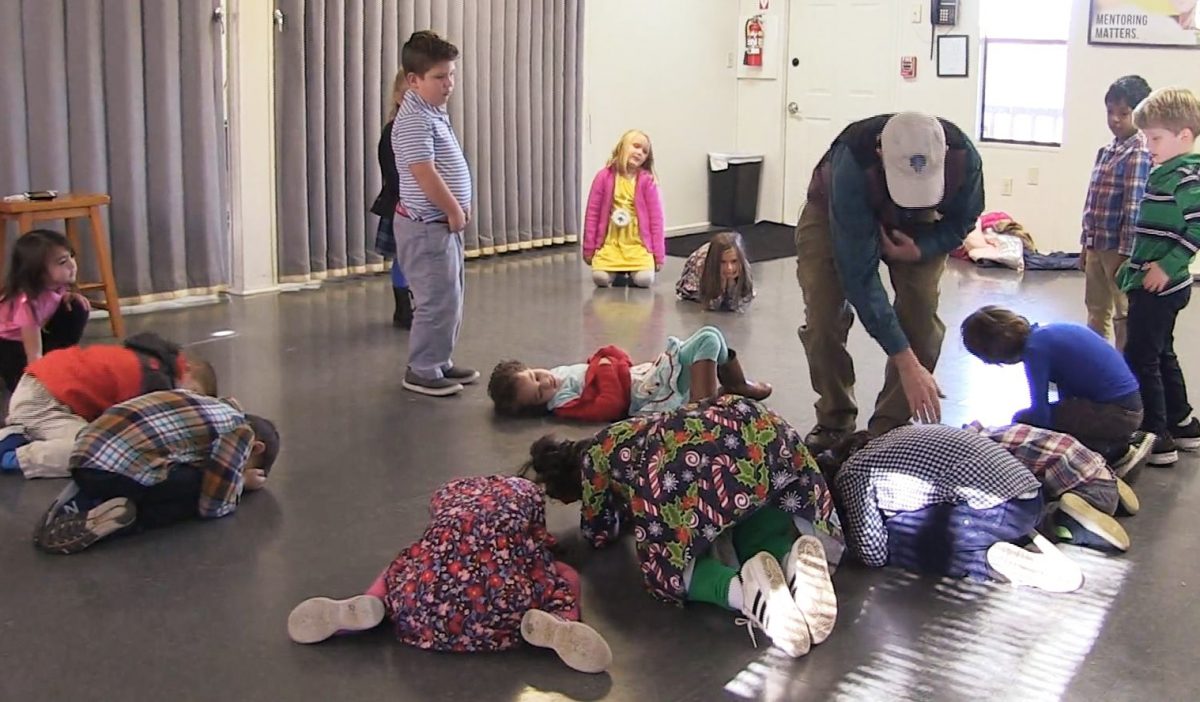 PARTICIPATORY MINI-CONCERTS ON SPECIAL THEMES:
1. Tall Tales & Songs – all ages
2. Mountain songs & tales – specialized to suit kids or adults
3. All kinds of tales – Jon tells sample folk tales from different genres, including tall tales, legends, myths, animal tales, and fairy tales – age 8 – adult
4. Ghost tales – tales of ghosts, witches, weird animals and other scary creatures – age 8 through adult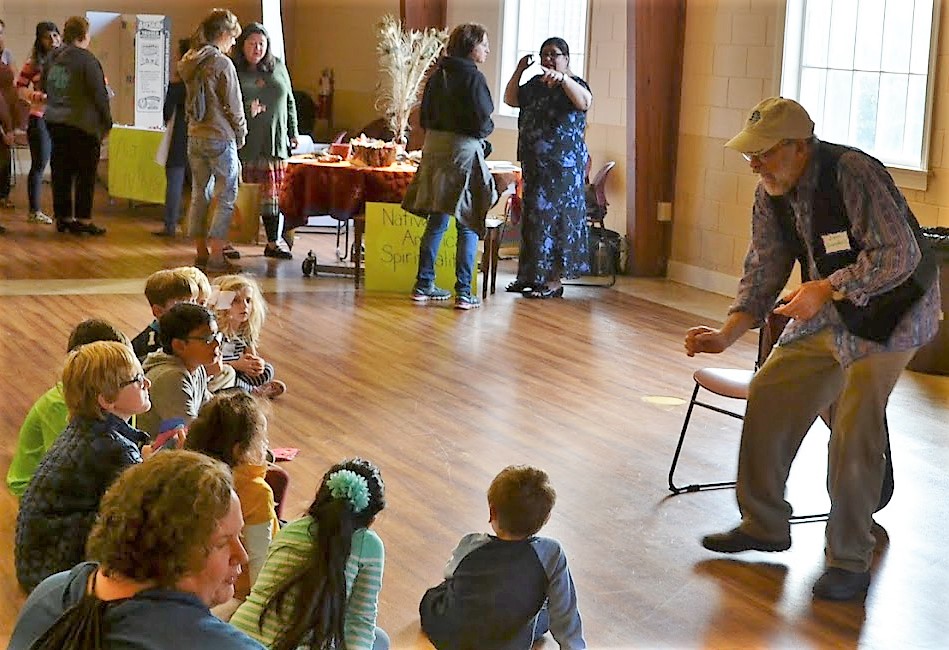 5. All Critters Big & Small –songs & tales of  animals – all ages
6. Down On the Farm -songs & tales of farm animals and pets – all ages.
7. This Land is Your Land – folk songs & tales around the United States – all ages
8. Stories and songs Around the World –  all ages
9. Songs of America at Work – age 10 through adult
10. Ballads – Songs That Tell a Story  – age 10 through adult
11. Stories & Songs of Mills, Mines & Moonshine – teens and adults