In October of '79, Jon gave several concerts in the elementary schools of Windham County. The response was almost unbelievable—the enthusiasm so strong that principals and parents from the school arts committees called one another, and the director of the Windham County Arts Council, to pass on word of his presence and abilities. The word everyone used to describe him was professional – quality in his music and presentation, and in the handling of an audience of school-aged children. Jon Sundell "plays" an audience of children as well as he plays any of the instruments he brings to a concert. The pace is lively as he moves from song to instrumental to tall tale to sing-along, and the atmosphere is one of warmth and good humor where every child feels a part of the happening. 

– Lynne Crocker, journalist, Arts Council of Wyndham County, VT
Jon Sundell is an ideal performer for school and library settings. In addition to 45 years of telling stories and singing in hundreds of schools across the US, he worked 10 years as a school media specialist and 22 years as public library children's specialist. Through "Perfect Storm Edutainment" he draws together these two streams of experience to create dynamic, engaging programs that inspire reading and bring the school curriculum to life.
All of Jon Sundell's school programs are presented in a multimedia format, using color slides along with folk songs and tales.   The slides help to provide context and background knowledge, so that students can understand songs and stories more completely. They are also used to draw connections with books that have been used as a resource or that students can use for follow-up reading and research.
Below is an annotated list of performance themes, workshops, and other follow-up activities. Often these programs can be adapted to suit your needs.
All of Jon's programs encourage reading through specific connections. The programs that bring book talks front and center are the first four of the "Books and Literature" series.  Of these, "Stories, Songs, Slides, Balloons and BOOKS" is the most dramatic because the majority of the program is full bodied, interactive storytelling and folk music, as is the case with most of the folklore-based and multicultural sections.
Note that several of the themes adapt well for middle and/or high school audiences. Ones that are especially well suited for these older students are Fantastical Quests and Transformations - Fairy Tales (Folklore Centered); The Power and Beauty of Figurative Language (Books and Literature); and all Historical programs.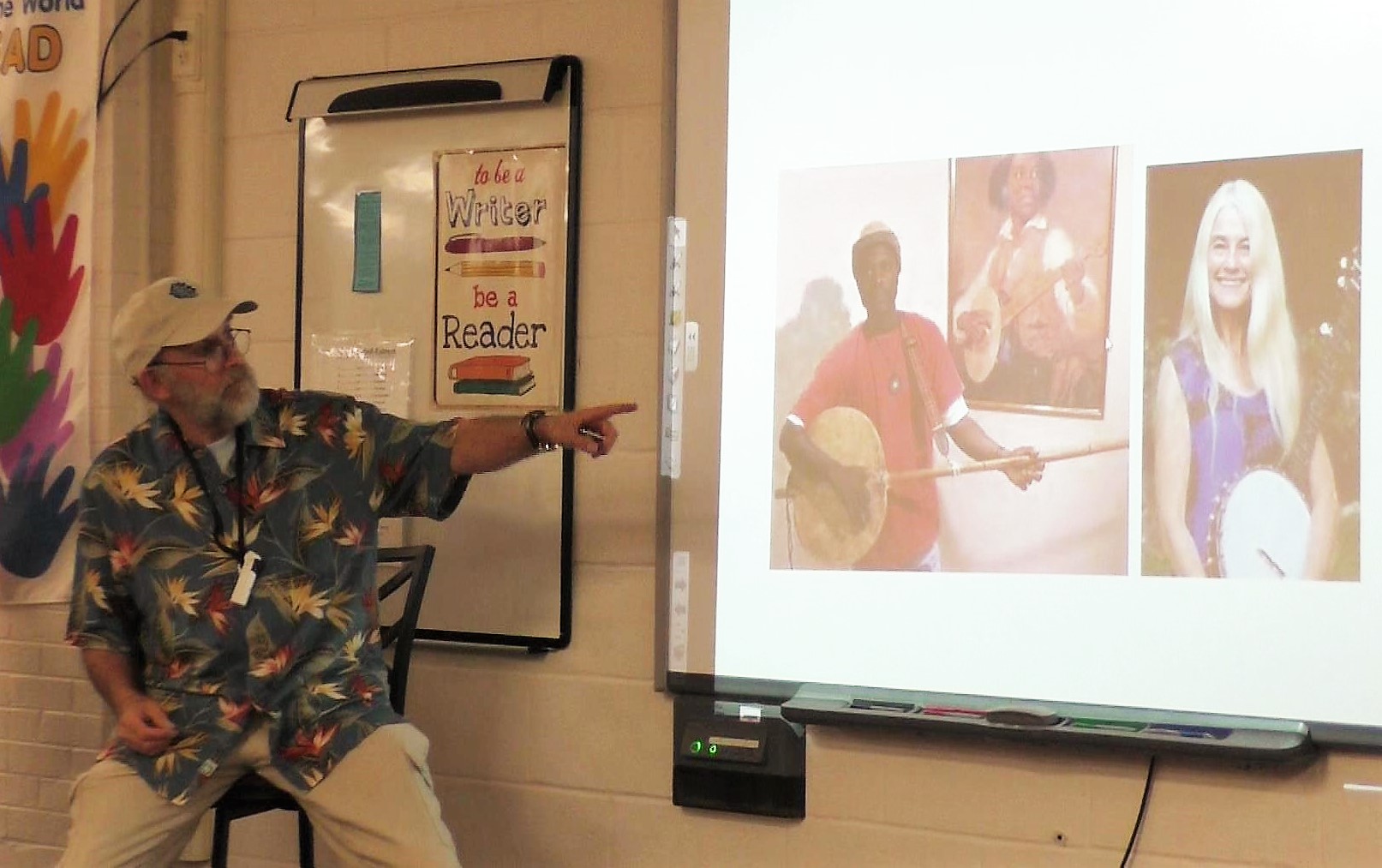 FOLKLORE-CENTERED
Introduction to Folk Songs and Tales
Jon shares simple folk songs and tales with lots of participation, demonstrating guitar, 5 string banjo, autoharp, mountain dulcimer, and spoons. Explains why the folk process of oral transmission was crucial before mass communication and entertainment. For all grades, especially k-2.
 North Carolina Folk Tales and Songs 
Jon demonstrates 5 string banjo, guitar and singing styles, mountain dulcimer, autoharp and spoons. He presents folk songs and tales from Anglo American, African-American and Native American cultures, illustrating how NC folklore reflects an early way of life, including the strong sense of tradition, closeness to nature, and balance of self-sufficiency with community interdependence. Includes excerpts from his book, Stay With Us: Visiting with Old Time Singers and Storytellers in the Southern Mountains, written by his high school students, and visible on his web site.  Especially suited for Grades 4 and 8.
Folk Tale Genres
What is  the difference between a tall tale and a legend, an animal fable and trickster tale? What are the characteristics of a "fairy tale" or "wonder tale"? This panoramic sampler provides an overview of all the subgenres: Tall tale, legend, myth, animal tale (fable & trickster tale), fairy tale, and wisdom tale. Ballads and "cante-fables" (story-songs) will be included, providing music and participation. Especially suited for grades 2, 3 & 4, but can be adapted for any grade
Wise, Clever and Foolish
Presents songs and tales from many cultures in which humans and animals employ widely varying degrees and types of intelligence - or lack thereof! The material ranges from hilarious to serious and thought-provoking. Grades 2 - 8.
Fantastical Quests and Transformations - Fairy Tales
Using a PowerPoint format Jon explains basic ingredients that often occur in fairy tales  – magical events,  stock secondary characters such as a witch or a giant, a main character that is an underdog, and lessons in social behavior – and applies them in sample tales. He also introduces some recent books with "fractured" fairy tales which parody, reverse or extend original fairy tales. While some are funny, others are thoughtful, complex and adventurous. Grades 2 - 8.
"I felt your performances here were first rate. I received unanimously positive feedback from the kids and teachers. We were all impressed with your rapport with the kids of different grade levels, with your flexibility, your story-telling ability and your efforts to make the music and the culture come alive."
– Clay Stites, headmaster, Friends Academy, North Dartmouth, MA
19 MINUTES. Folklore related themes & two others. Folk songs, tales, and dance presented in informative format for school and library programs. Includes: "Introduction to Folklore," "North Carolina Songs & Tales," "Genres of the Folk Tale," as well as secondarily "All Critters Big & Small," and "What's So Great About Reading?" (1) 01 Introductory slide show about Jon Sundell & themes of this sampler, with Jon's studio recording of "My Daddy Rides That Ship in the Sky," by Woody Guthrie, with banjo; (2) 1:01 Hunting sequence: Introduction to early settlers' self-sufficient life: 1:46 "Old Blue" - folk song while making balloon dog; 3:00 "Daniel Boone's Split Dog," tall tale told with balloon dog; 4:35 recommended dog books; 
(3) 5:45 Square dance photos ; (4) 6:17 "On My Grandma's Patchwork Quilt,"song by Larry Jennings with motions by Jon, guitar; (5) 7:42 Photos of folktale & folk song books and tradition bearers; (6) 7:52 Explanation of folktales; (8) 10:39 Explanation of tall tale & 11:21 "The Cajun Possum;" (9) 14:13 "Waterbound," - mountain folk song with mountain dulcimer; (10) 15:13 Demonstration - how to play the spoons; (11) 16:33 Photos of John Henry legend; 16:58 "Ballad of John Henry" with banjo; 18:26 photos related to the real John Henry; (12) 18:36 "When I First Came to this Land," by Oscar Brand, with autoharp.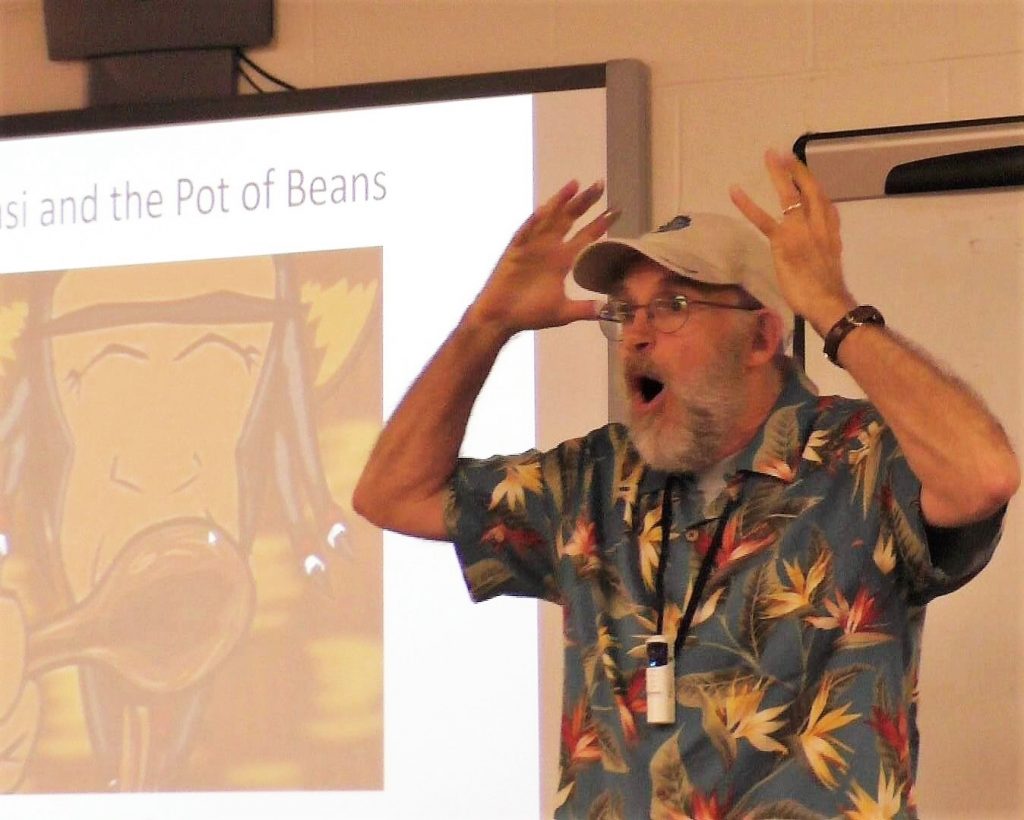 MULTICULTURAL FOCUS
Songs and Tales Around the World
Schools choose several geographic, national and cultural regions, including Native America, Latin America, United States and Canada, Europe, Asia, Africa, Asia, the Middle East and Australia to be represented in a multimedia program emphasizing folktales. Several contemporary folk songs are included, emphasizing a theme of multicultural understanding. Appropriate for all grade levels, k-12 with age-appropriate differences in story selection.
Latin American Journey: The Wide World of Hispanic Heritage 
Features a wide range of stories from the pre- and post-Colombian eras in the Americas, representing different cultures, countries and geographic regions. Includes personal slides from  Jon's many visits to Mexico, Central and South America, as well as others that help students visualize the region's people and places. A display of traditional Latin American crafts enriches the experience. Several bilingual and Spanish language songs with choruses are included. Especially suitable for grades 2-5, but easily adaptable through grade 12.
Jon tailored the program to our needs. We were doing a multicultural theme, and he focused on the countries we were studying. I especially loved how he talked about the sources of the stories and then linked books found in our own library to the stories he told. Jon's slides were spot on for reinforcing his presentation and engaging the students.
- Colleen Yarnell, media coordinator, Union Cross Elementary School, Kernersville, NC
28 MINUTES. Multicultural & reading themes. Listen to as much as you want! Excerpts of stories & songs from multicultural programs, "Stories and Songs Around the World," "A Nation of Immigrants," "Hispanic Heritage," as well as "What's Great About Reading?". Color slides added in represent updated PowerPoint presentations that accompany concerts. (1) 001 Intro: biographical slide show with background song, "It Could Be a Wonderful World," from Jon's studio recording; (2) 1.00"We're All A Family Under One Sky," by Ruth Pelham - call & response song with guitar; (3) 2:20 "Anansi and the Hat Shaking Dance," African trickster tale; (4) 5:36 "Mi Casa es su casa," bilingual song by Michele Valeri, with guitar; (5) 8:15 Booktalks of
Esperanza Rising, by Pam Munoz Ryan and Harvesting Hope: The Story of of Cesar Chavez, by Kathleen Krull; (6) 9:25 "Somos el barco/ We Are the Boat,"bilingual song by Lorre Wyatt, with autoharp; (7) 10:06 Slide show introducing Islam; 11:10 "The Hungry Coat," Turkish wisdom tale about Nasrudin Hoja; (8) 16:04 Irish medley: Jamie O' Rourke and the Big Potato, by Tomie de Paola, based on Irish folktale; 19:27 slide show of Irish potato famine; 20:09 "Paddy On the Railroad," Irish-American work song, with banjo; (9) 20:53 "The Empty Pot," Chinese wisdom tale; (10) 24:10 "The Garden Song," by David Mallett with motions by Jon Sundell; (11) 25:40 Jon's personal slides from Japan;  (12) 26:44 Thematic slide show matching lyrics to "It Could Be a Wonderful World," by Hy Zaret & Lou Singer, music from Jon's studio recording.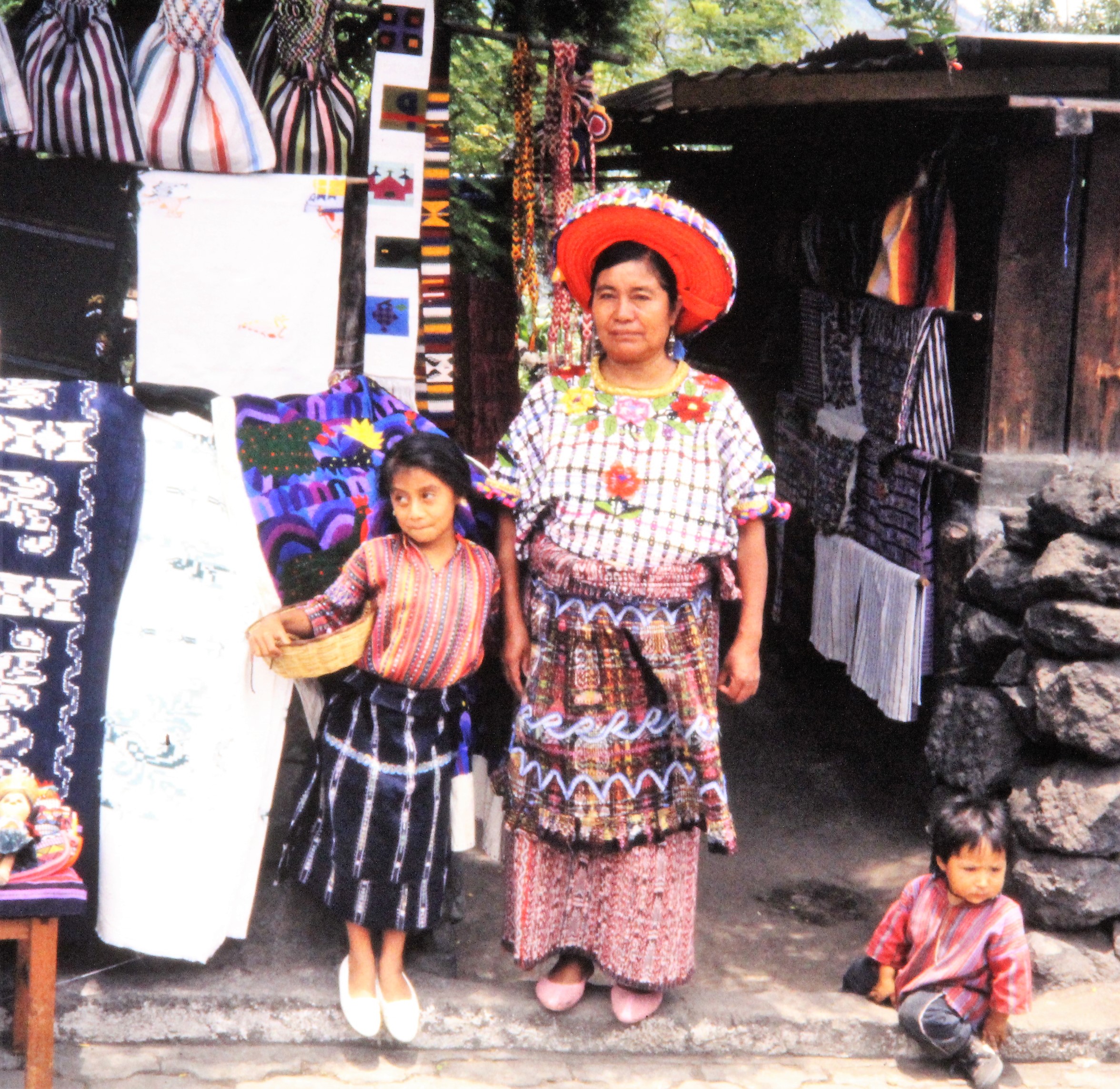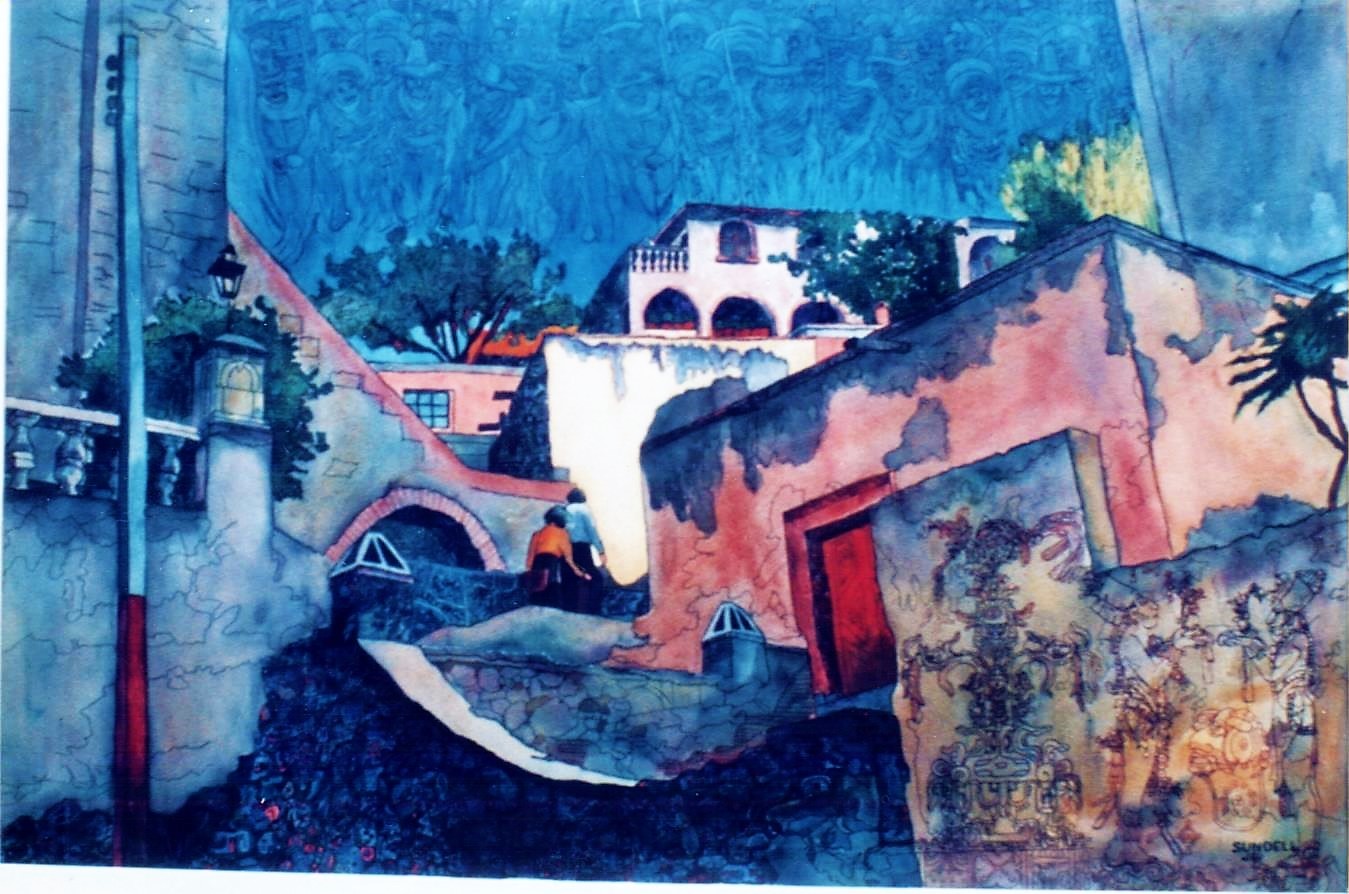 BOOKS & LITERATURE
Stories, Songs, Slides, Balloons & BOOKS
Although this program focuses on books, the different genres and titles are introduced within the context of dynamic folktales and songs that, in fact, make up the greatest part of the program. So it is still well suited to large groups, and it has a similar dramatic feel to the folklore-based and multicultural programs. It takes the form of a recommended reading list and works great as a reading motivator at the beginning or end of the school year. Recommended for grades k - 5.
"I presented the line-up for Camp READ A Lot to the staff today, and when the teachers saw your name, the whole crowd lifted their voices with a cheer and started singing your praises! We can't wait for you to come back to entertain our children at Griffith!"
- Cynthia Needham, media coordinator, Griffith Elementary School, Winston-Salem, NC
What's So Great About Reading?  
Books, storytelling, folk songs. Books take us both outward and inward. They open up a world of adventure by taking us to many real and imagined times and places. And by leading us deep inside the personal experiences of characters who are struggling to overcome problems and find happiness, they help us understand and accept ourselves. A bibliography can be provided in advance. For any grade, but especially 3-12.
36 MINUTES: More than one program's worth to show options. Song & tale excerpts matched with book talks and capsule descriptions. There is a lot of overlap with folklore and multicultural samplers. Much of the footage is taken from public library programs with mixed ages that included personal balloon making for kids. However, "twist-&-tell" stories are also used with school audiences to add variety and a festive spirit. (1) 01 Introductory slide show with Jon's studio recording of "Oh, Had I a Golden Thread," by Pete Seeger, with banjo. (2) 0:46 "The Summer Reading Song," by Jon Sundell, with guitar; (3)2:00 Old Blue/ Dog sequence: Song- "I Had a Dog & His Name Was Blue" & tall tale with balloon – "The Split Dog"; 4:13 Fiction books about dogs, featuring Because of Wynn Dixie, by Kate DiCamillo (4) 5:30 Song – "I Wish I Was
a Mole In the Ground" – with banjo, students make up a verse; (5) 6:51 Monkeys & other tricksters: Monkey photos; Trickster tale with balloon – "The Monkey and the Crocodile," from India; 10:21 Koko's Kitten; 10:51 Folktale books about tricksters, featuring, For Love and Roast Chicken, by Barbara Knudson; (6) 11:43 Call & response song: "We're All a Family Under One Sky;" by Ruth Pelham, with guitar; (7) 12:23 Irish medley: Folktale: Jamie O'Rourke & the Big Potato, retold by Tomie De Paola; 15:47 slide show of Irish potato famine & excerpt from chapter book, Nory Ryan's Song, by Patricia Reilly Giff; 17:46 Irish American work song-"Paddie on the Railroad"; (8) 18:24 True Confessions of Charlotte Doyle, by Avi and other historical novels; (9) 21:10 Brief mention of humorous books; (10) 21:55 Hispanic sequence: Bilingual song – "Mi casa es su casa," by Michele Valeri with long intro.; 24:28 Personal slides of Latin America; 24:49 books with variants of folktale, Mariposa/ Cucarachita Martina; 25:27 Chapter book, Esperanza Rising, by Pam Muñoz Ryan and biography, Harvesting Hope: The Story of Cesar Chavez, by Kathleen Krull; (11) 26:34 Pirate sequence: making a balloon sword; brief telling of Edward and the Pirates, picture book by David McPhail; 29:40 description of Blackbeard; (12) 30:42 Introduction of fairy tales & "fractured" versions in chapter books; Fairy tale - "The Six Swans"; (13) 33:49 East Asia sequence: Chinese wisdom tale, The Empty Pot, by Demi; 34:46 Photos of recommended books: The Wisdom Bird, and books from and about China and Japan; 35:05 Personal photos of Japan.
A Multicultural Reading Tour
To develop multicultural understanding we need to go beyond the easily visible signs of  other cultures to a deeper encounter with the feelings and experiences of individuals within them. Book talks and a few folk tales presented here enable students to form a more personal impression of people with ancestry or experiences in Africa, Asia, the Middle East, Latin America, Europe and native America. Especially valuable for grades 4-12, but other books can be selected for primary grades.
Time Travelling through Books,  Songs and Folk Tales
Jon present excerpts from historical fiction paired with traditional folk songs, folk tales, and history. Jon brings this genre to life and demonstrates how it takes us inside the minds, hearts and experiences of people throughout the ages. Grades 4-12.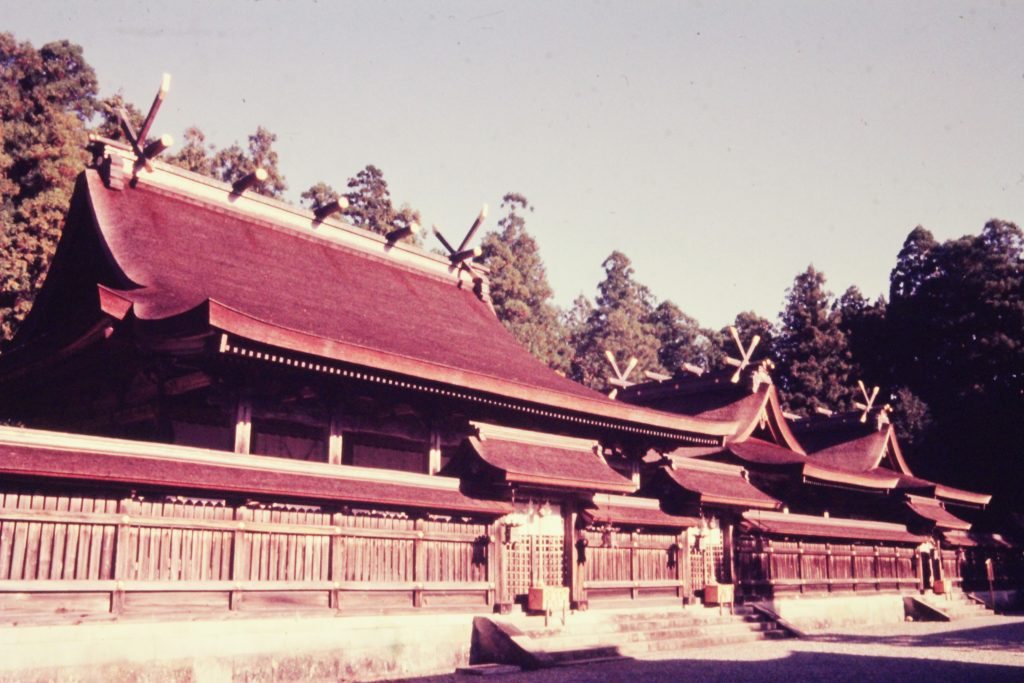 The Power and Beauty of Figurative Language
Robert Frost defined poetry as "feats of association." This program not only helps students recognize figurative language, but appreciate its value - creating a more dynamic, multi-dimensional experience through the vibrancy and sensory impact of its imagery. Slides of the poetic image are projected on the screen to help students appreciate the impact of the figurative language.  Covers concrete language, metaphors, similes, word play and symbolism. Includes a few stories that are based on analogy to make a point. Grades 4-12. Song selection varies according to group's age.
Jon Sundell is a sensational musician whose folk music is enhanced by wonderful stories from many cultures, so his performance is entertaining as well as educational. Jon's first visit to Keene was for one performance at an elementary school; his next visit will be for a three-day residency, since word of that one performance has spread. Jon is very professional and accommodating, a joy to work with.
–Judith Perry, Project Coordinator, Grand Monadnock Arts Council, Keene, NH
Jon brings the story of immigrant America alive by combining the folk songs and tales and personal anecdotes of European, African, Asian and and Hispanic immigrants together with excerpts from current children's literature and a historical slide show using primary sources. Grades 4-12
Westward Expansion
No topic more encapsulates the mythology of our country, with its contradictory mix of adventure, hardship, and exploitation, than the Westward expansion of European settlers across the North American continent. Through songs, anecdotes, historical background and primary document slides, Jon highlights varying points of view of white, black, Hispanic and Native Americans during this complex and momentous period. Especially recommended for gr 5, 8 & 9.
The Industrial Revolution, Child Labor  & the Fight for Workers' Rights
This program focuses on coal mining, textile and migrant farm worker industries, including the fight against child labor and the fight for labor unions and better working conditions. Powerful, expressive songs about those industries and movements are presented along with anecdotes, history, and booktalks, against a backdrop of slides. Grades 5 -12.
SCIENCE-RELATED
All Creatures Great and Small
Folk songs and tales, information, slide show - Folklore is filled with a myriad of wonderful songs and tales reflecting the animal kingdom. Relating these to real life information provides an entertaining and useful exercise in comparing and contrasting fiction with non-fiction. Especially suited for k- gr 3.
Living With the Earth
Using traditional folktales, a few songs and color slides, this ecological program communicates the priceless importance of nature. all of creation,  including humans, is interdependent, so we must learn to live responsibly with the animals, plants and  resources of our planet. k - gr 5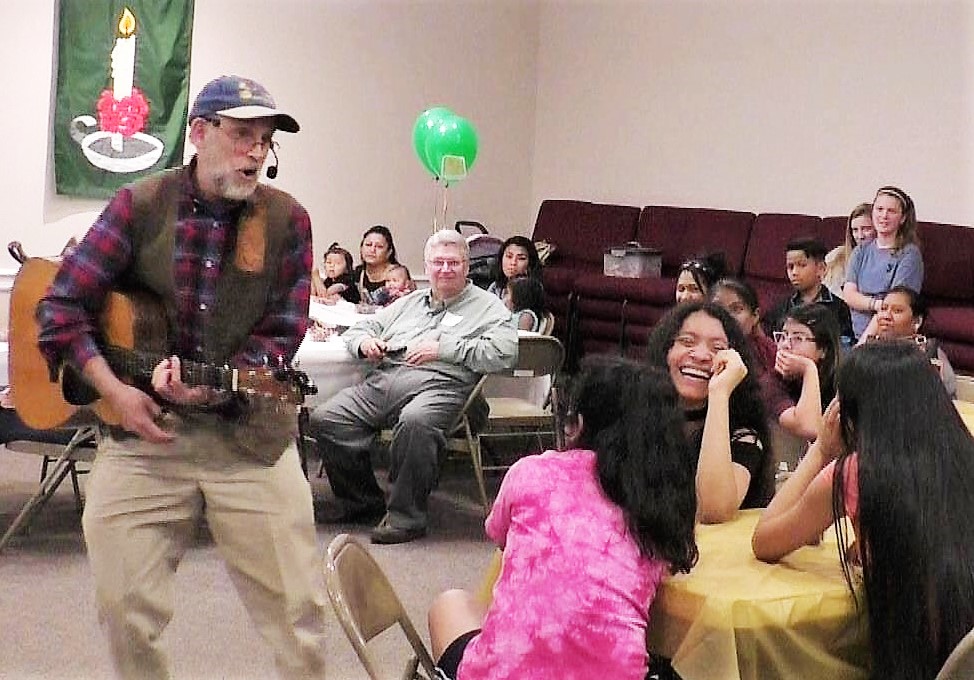 I thought your performances were awesome! We had some very large groups and you captured the attention of those even seated in the back.  Teachers liked that you moved through the crowd and interacted with students.
- Carol McFadden, North Topsail Elementary School, NC