"Jon was perfect for our Little Folk Festival. The kids loved interacting with him and the parents did, too."    – Cindy Tuttle, executive director, Stokes County Partnership for Children
Jon Sundell is the ultimate "edu-tainer." For over forty years he has been sharing folk songs, tales and dances with children and families across the United States and several foreign countries – in Spanish as well as English.
Accompanying himself on guitar, banjo, autoharp, mountain dulcimer, ukulele and spoons, Jon weaves together folk songs with multicultural folk tales of all kinds. By presenting such variety in a warm and lively manner, he can easily gain and hold the attention of his audience. He also involves them in various ways, especially if they are preschool aged. Children sing along, move, and respond verbally in a variety of ways, either by pattern or creatively. In smaller groups some of the children will help out on rhythm instruments.
Jon often draws on other tools as well: Sometimes he uses a puppet to help tell a story or converse with the audience. Or he creates a balloon figure as he tells, then uses it as a storytelling prop. This is especially nice with smaller groups because he can follow up his performance by making personal balloons for the audience members.
Jon Sundell's educational programs are generally presented in a multimedia format, using color slides to provide context and background knowledge, so that students can understand songs and stories more completely.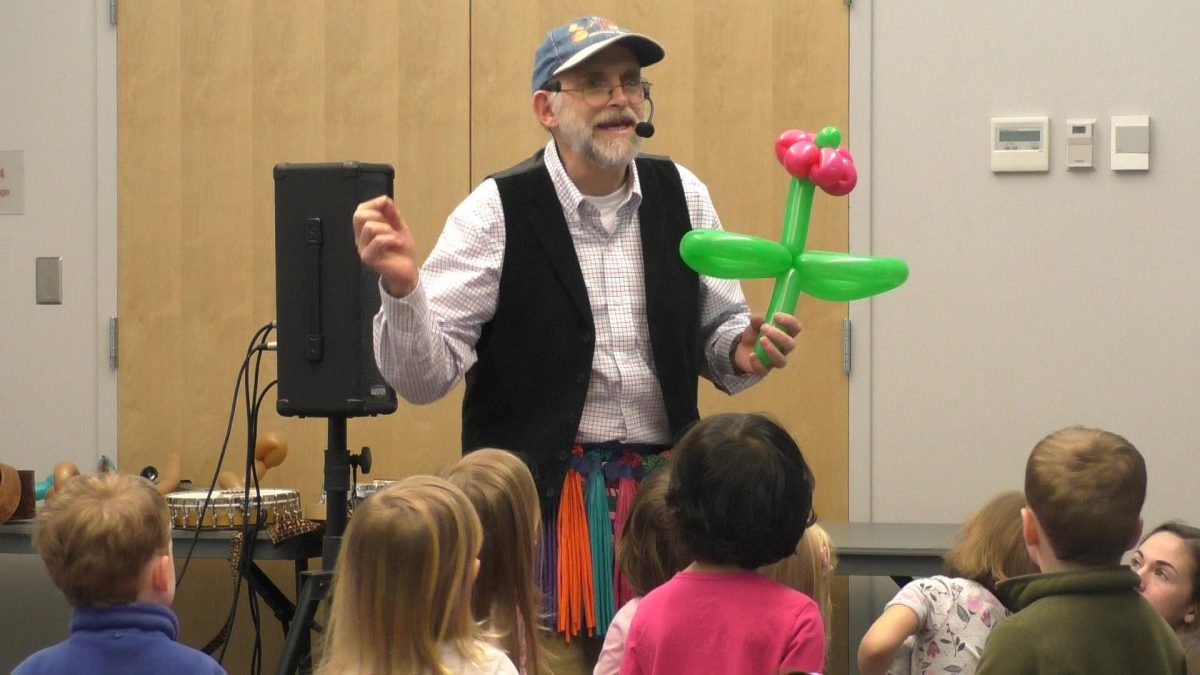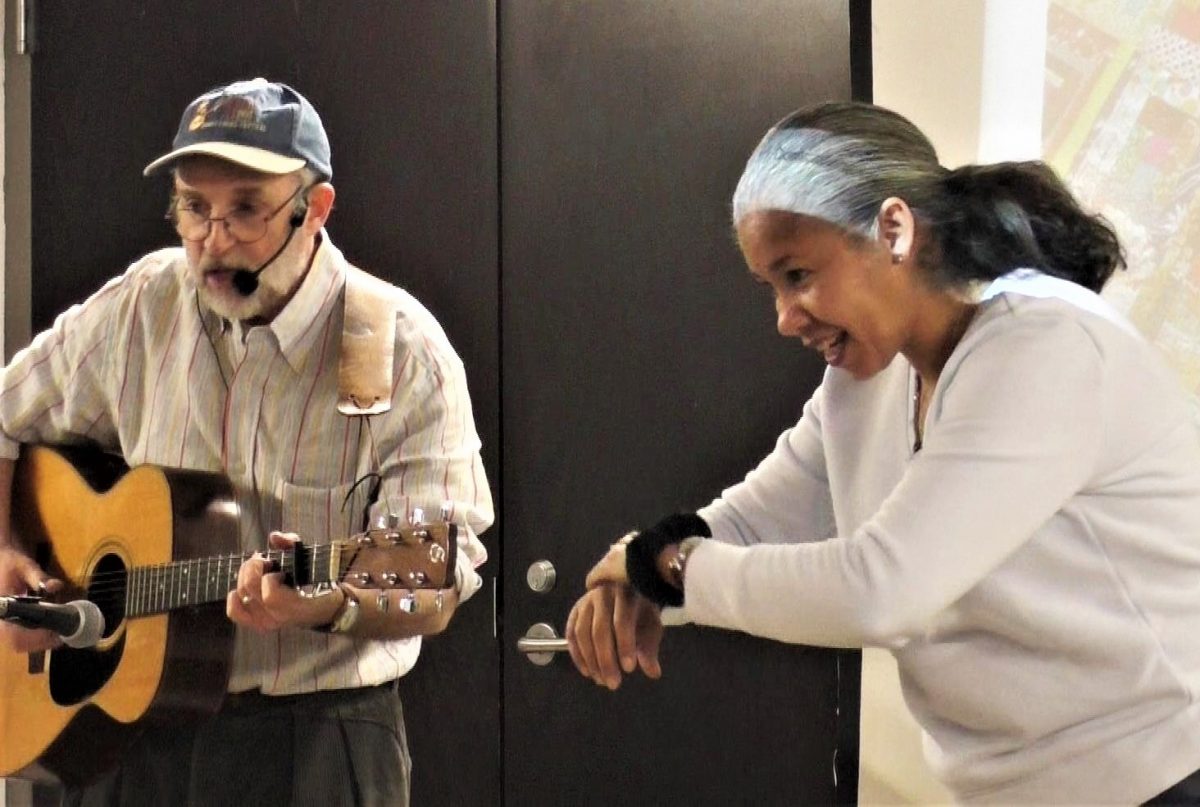 "Our preschoolers loved this program! The songs were silly and engaging and the stories held their attention. The children each got to pick their own balloon animal to take home at the end of the show! They all went home smiling!"   - Lisa Wallace, director, Stepping Stones Preschool, Harrisburg, NC
Library Background in Toddler and Preschool Storytimes
In addition to his many years performing and leading workshops with children of all ages, Jon spent 22 years as a children's librarian in the Forsyth County Public Library. During most of this time he conducted weekly storytimes with toddlers, preschoolers and parents. Over those years he learned to connect and interact with these little ones, and he developed a repertoire of songs and tales to engage and excite them and their parents.
Repertoire and Techniques to Promote Interaction and  Engage the Very Young
Jon uses the banjo and guitar to set a lively pace and rhythm, and the autoharp for a lush melodic change.
Songs engage children verbally and physically through call & response, choral refrains, hand motions, and/ or sometimes full body movement.
Many of the tales involve children's participation in rhythmic or melodic chants or verses.
Jon often gets audience input to create a verse, suggest an animal, vegetable, or other item, or determine the course of a tale.
Folktales, Songs & Singing Games for Preschool and Daycare. An extensive sampler of excerpts - more than one program's worth - not only showing Jon's skills with this age group, but some samples (not the only ones) to choose from.  For quick viewing you can watch 1, 2, 3, 4, 6, 9, & 11 (first 4 minutes). However, full viewing is encouraged. (1) 0.05 "The Green Grass Grew All Around" - call & response folk song with motions, guitar; (2) 1:15 "She'll Be Coming Round the Mountain" - folk song with motions, banjo; (3) 4:23 Draw & tell story - The Thanksgiving Turkey; (4) 6:50 "I'm Gonna Tell" - folk song by Rosallie Sorrells, guitar; (5) 8:57 "I Wish I Was a Mole In the Ground" - Appalachian folk song, includes children making up a verse, banjo; (6) 10:19 Fable by Aesop - "The Lion and 
the Mouse," performed with finger puppet; (7) 12:00 "Love Grows One by One" - folk song with motions by Carol Johnson, autoharp; (8) 12:56 "Stone Soup" - musical, version of traditional Folk tale from Heather Forest, with audience contributions, guitar; (9) 15:38 "Grandma Moses Sick In Bed" - African American singing game; (10) 16:33 "We're All a Family Under One Sky" - call and response folk song by Ruth Pelham, with new verse added by Jon from picture book, Bein' With You This Way, by W. Nikola-Lisa, guitar; (11) 17:33 "Big Man Drum" - Indian folk tale performed while creating & using a balloon figure, adapted from Shake-It-Up Tales!: Stories to Sing, Dance, Drum, and Act Out, by Margaret Read MacDonald; (12) 27:15 Señor Gomez, Jon's mascot puppet, tells about immigrating to the US; (13) 29:34 "When I First Came To This Land," folk song by Oscar Brand, autoharp.
"Thank you so much for sharing your talents at our Vacation Church School picnic. Even now children are "making peanut butter." Your awareness of the wide age range and varied attention spans was remarkable.  Watching the children ease forward so they could be a part of the group was wonderful."
– Ida K McCaskill, Director of Christian Education, Highland Presbyterian Church, Winston-Salem, NC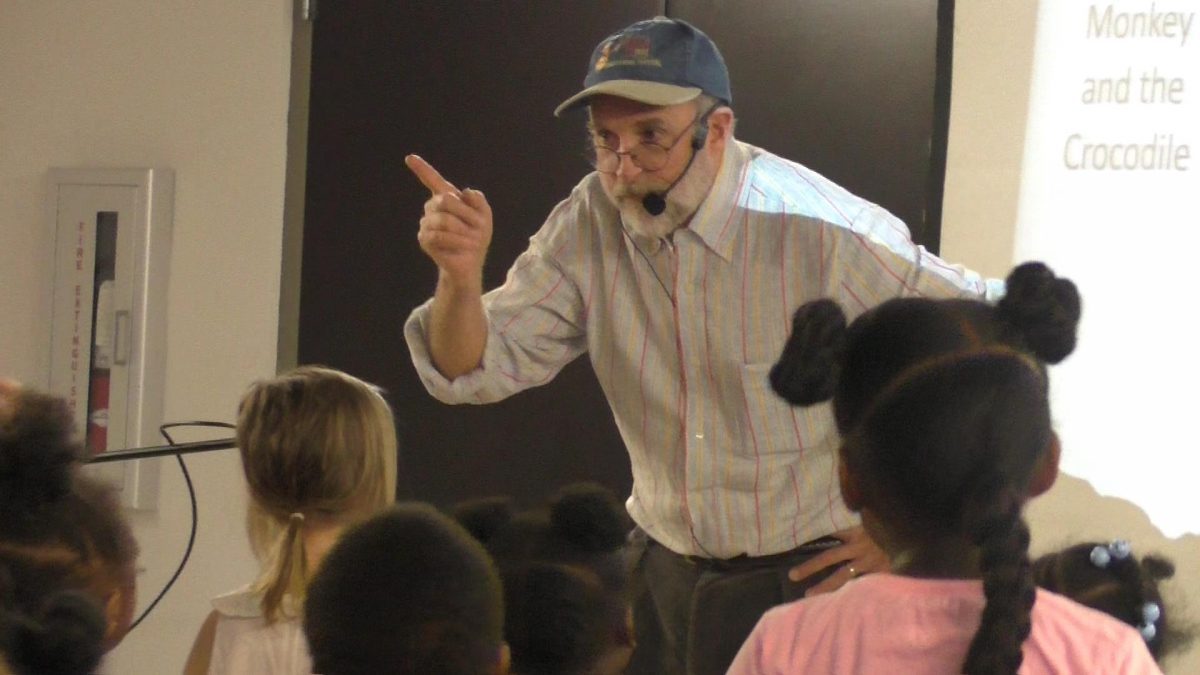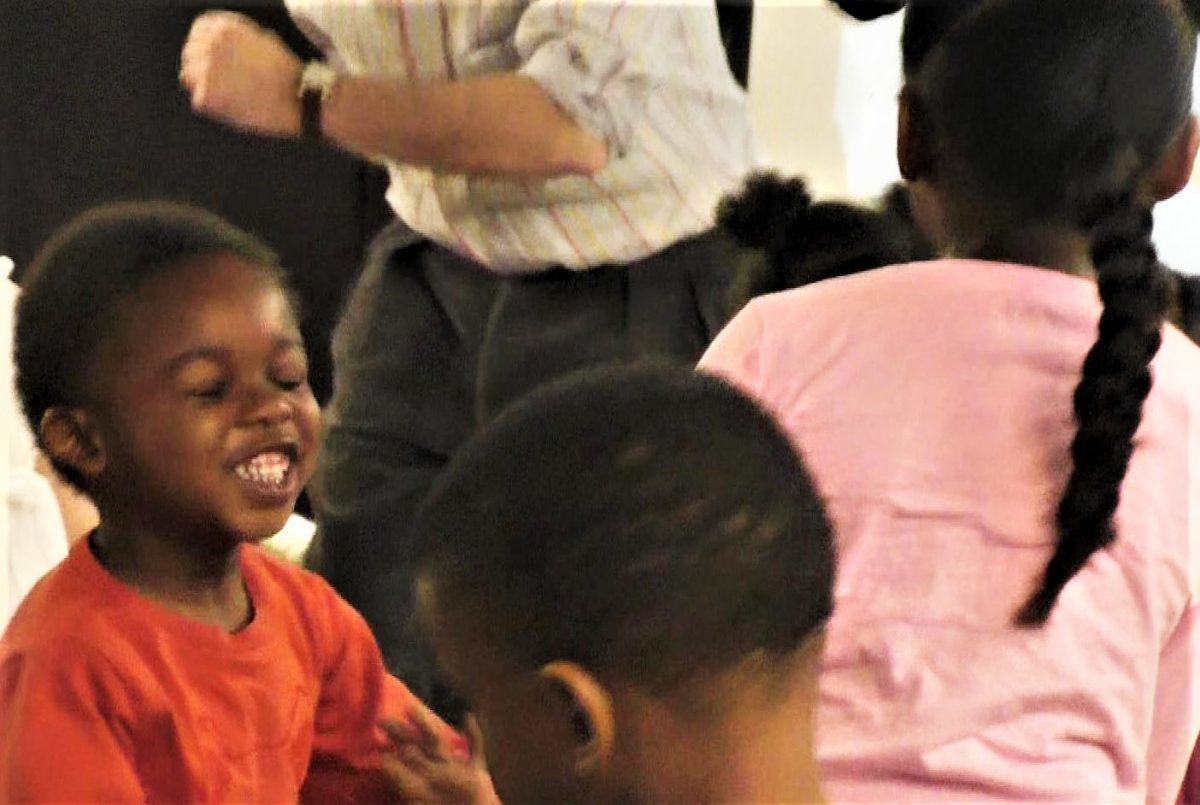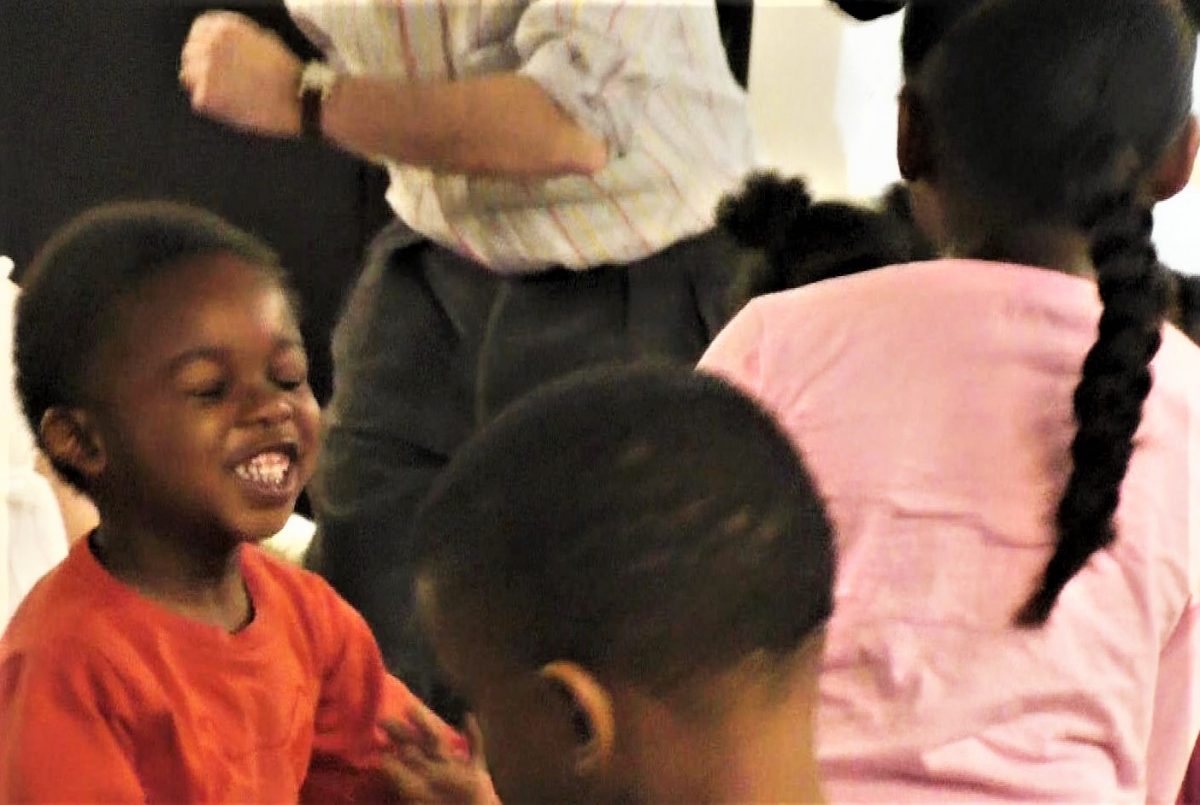 Singing Games
While Jon and his wife Vivian always incoporate song & movement into a storytelling program, he can also lead a whole separate activity of full body singing games in group formations such as circles or lines. The simplest of these, often done without partners, are a wonderful activity for four and five year olds, one that teachers can continue leading on their own in the classroom or playground. "Farmer In the Dell" is one of dozens of fun games with European, African and Hispanic roots that teach important verbal, musical and physical skills while providing a welcome break and diversion from more sedentary activities. Jon can teach these in teacher workshops as well as classroom settings.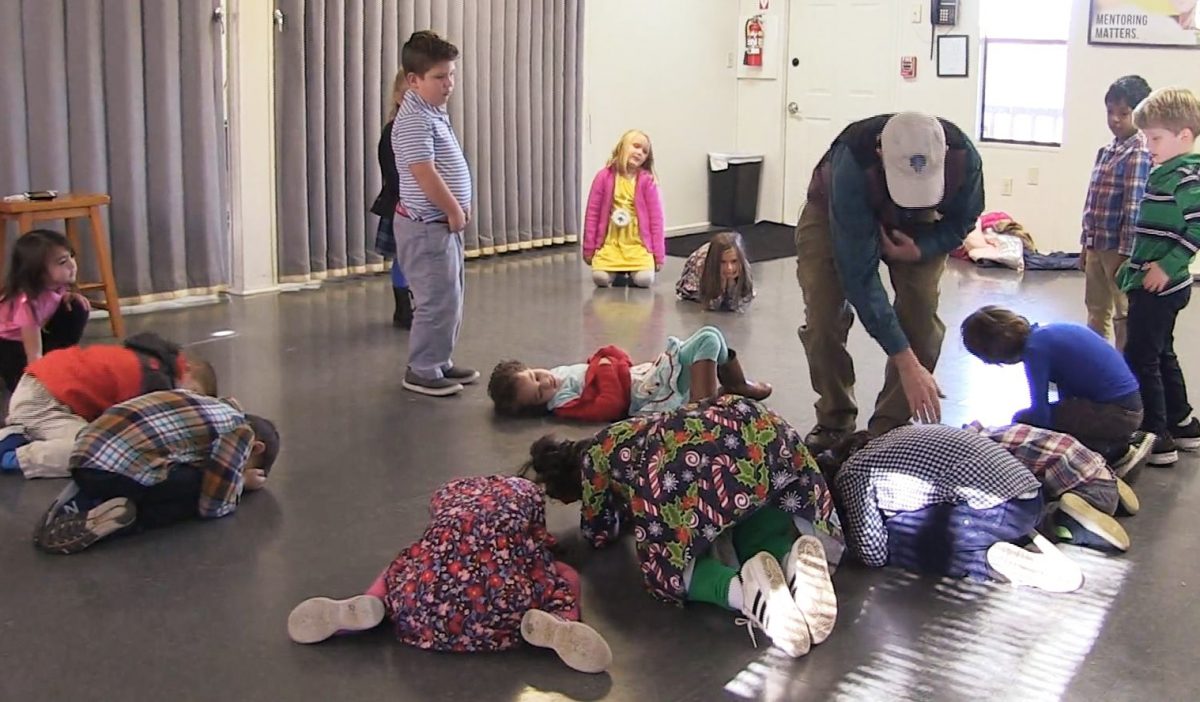 Library & Smart Start Leadership with Preschool and Special Populations
Jon served for two years as head of Children's Outreach and seven years as head of Hispanic Services. During that time he applied for and received about $300,000 of Smart Start funds, which he used to: develop countywide training for day care providers in how to present storytimes; oversee the creation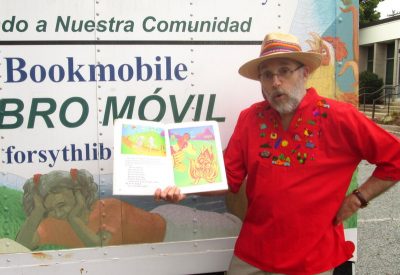 of 300 multimedia storytime kits; design and purchase bookmobiles to visit day care centers and key community settings where many Hispanic immigrants reside. He developed close ties with Hispanic families, churches, and other institutions, introducing them to the library's materials and services. Jon emerged as a national leader in Hispanic outreach among libraries with rapidly expanding Hispanic populations.
"Over the years Jon Sundell has presented bilingual library programs on many  occasions, and he is always adept at relating to and entertaining both Spanish and English speaking families. Children and adults from both cultures feel at ease and appreciated, and they join freely in the fun. But above and beyond all the excitement there is an overarching sense of something more: a spirit of cultural exchange and community. Jon has a true gift and a passion for bringing people of different backgrounds together."
- Esmirna Esparza, Head of Library Service to Spanish Speaking People, Forsyth County Public Library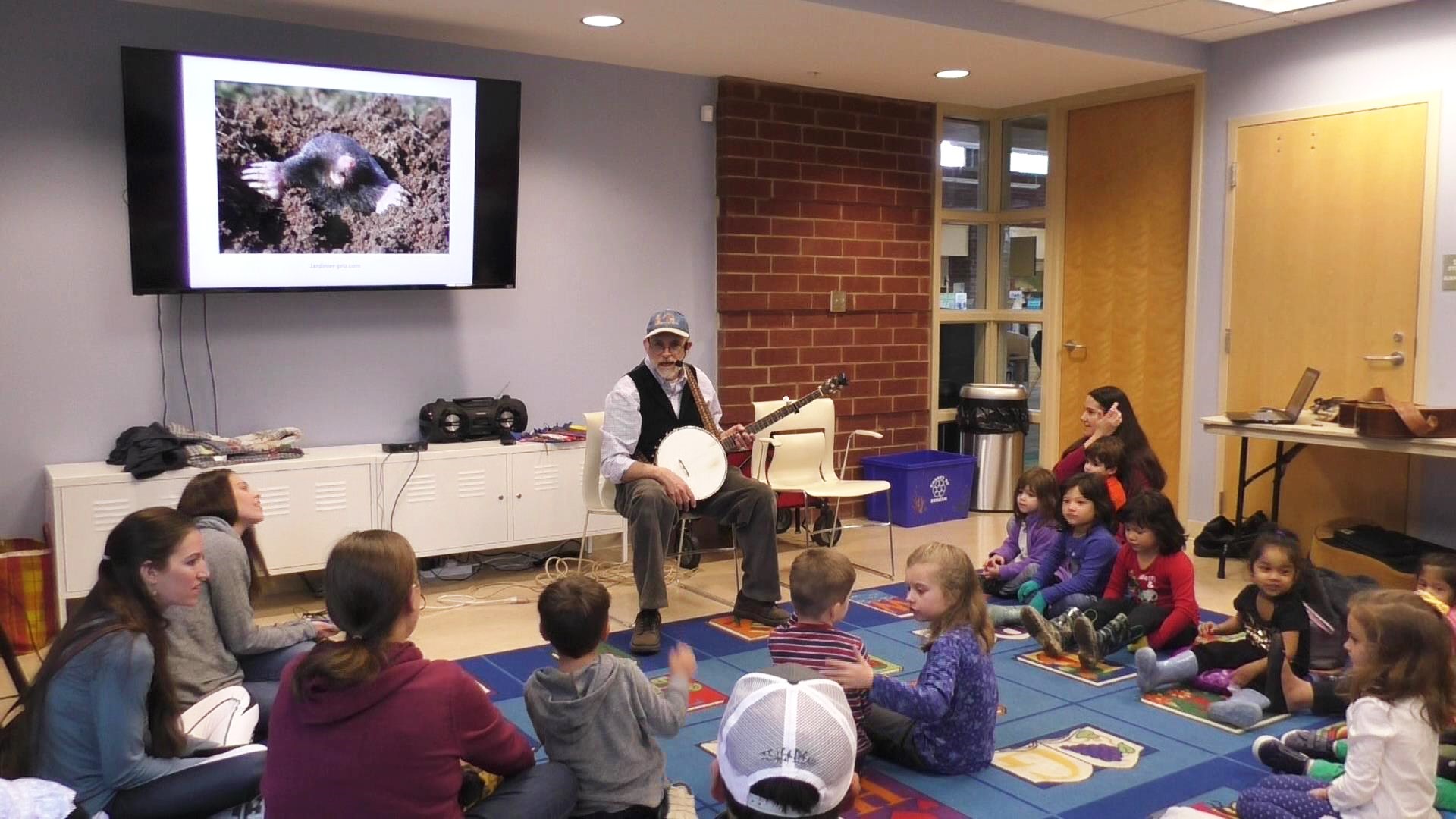 Family Literacy Training
During his leadership of Hispanic Services Jon conducted many parent training sessions through MotheRead/ FatheRead, a North Carolina program created to increase family literacy. Using a specific selection of picture books, trainers follow a curriculum designed to promote intergenerational dialog and sharing of experiences, while developing an understanding and appreciation of reading.
During his later years as media coordinator at Old Town Elementary School Jon also developed and implemented family literacy training, advising parents on optimal ways to share books with their preschool aged children. This was done as part of a federal grant to promote reading readiness known as the "Reading Railroad."