Jon and Vivian Sundell create a fun, attractive variety of balloon figures for any occasion – a party, festival, store opening, public concert, or many other events. Kids and parents love their balloons, as well as their warm, personal manner that makes each child feel special.
They love to joke around with the children. Jon warns them to "Be careful with this balloon. It's very sharp! I don't want your mother calling me up in the middle of the night to tell me you just cut off your sister's arm."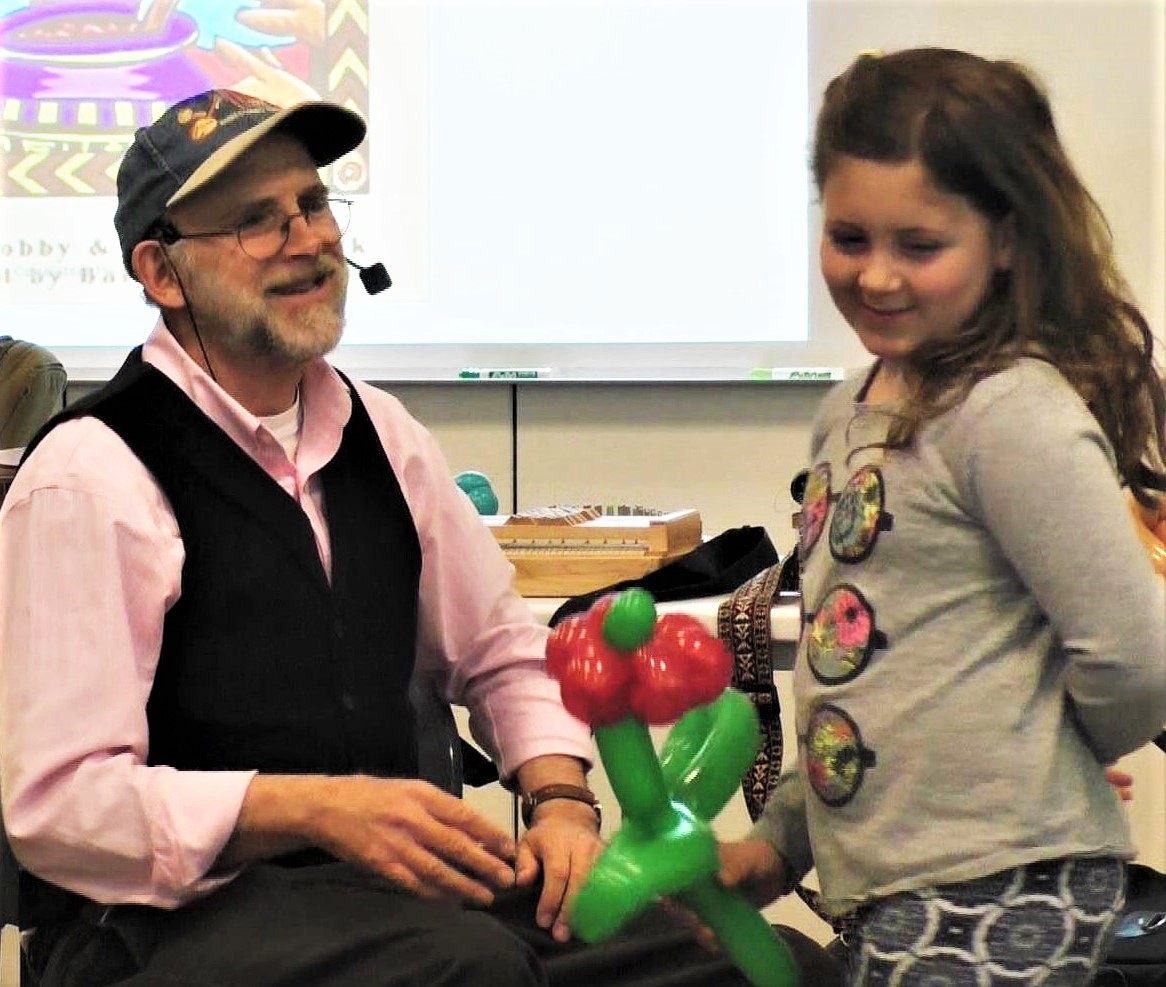 One little girl who requested a flower was told, "You have to marry me if I give you a flower." She thought for a moment, then said, "I think I'd like the dog." Everybody had a good laugh, and she was able to get her flower after all – without commitments!
It's no wonder that Jon and Vivian have a strong rapport with children. They have raised two children, now 10 and 24, and they are aunt and uncle to seven others. Jon has performed as a storyteller and folksinger for kids and families for over forty-five years, and he worked as a children's librarian for 32 years in the public library and public schools. Vivian only worked for two years as a teacher's assistant, but she was beloved by all the children for her warm, caring manner – something she had developed as a mother and aunt. Making balloon figures for Jon and Vivian is as much about the kids as it is about the balloons.
With both Jon and Vivian twisting, they avoid the long waits that children often experience in getting balloon figures. And they replace any broken balloons with a smile!
"It was great to have you both here at the Easter Bunny Express! Your balloon figures, your manner with the kids and adults, and your professionalism all rated a 10/10. I look forward to working with you in the future!"
– Danielle Hough, Director of Special Events,
NC Transportation Museum, Spencer, NC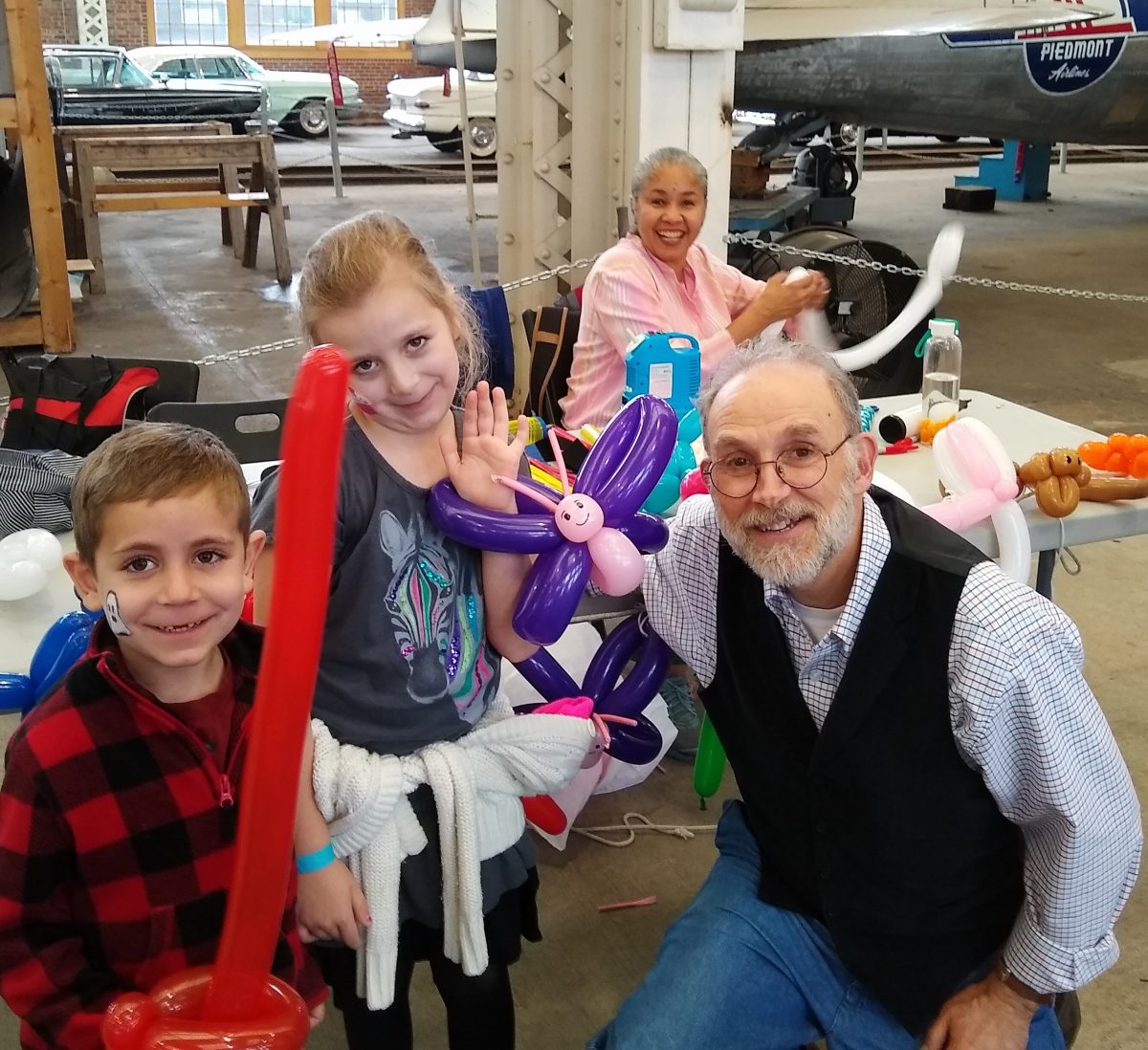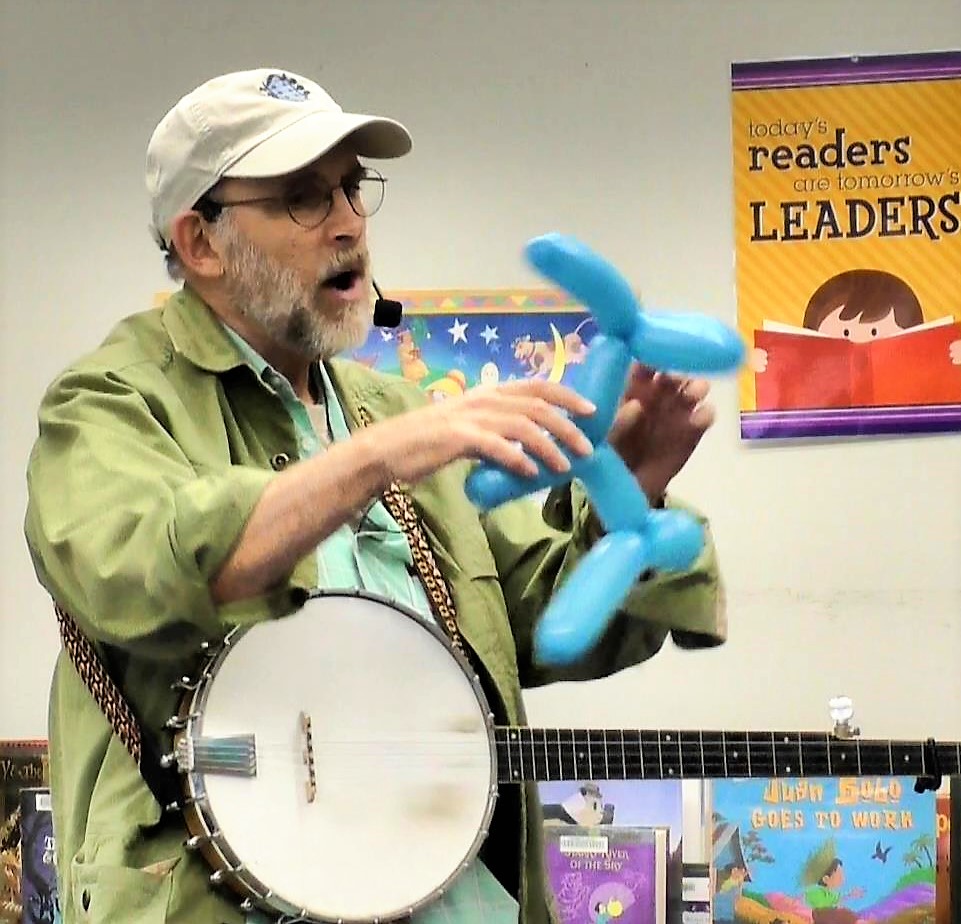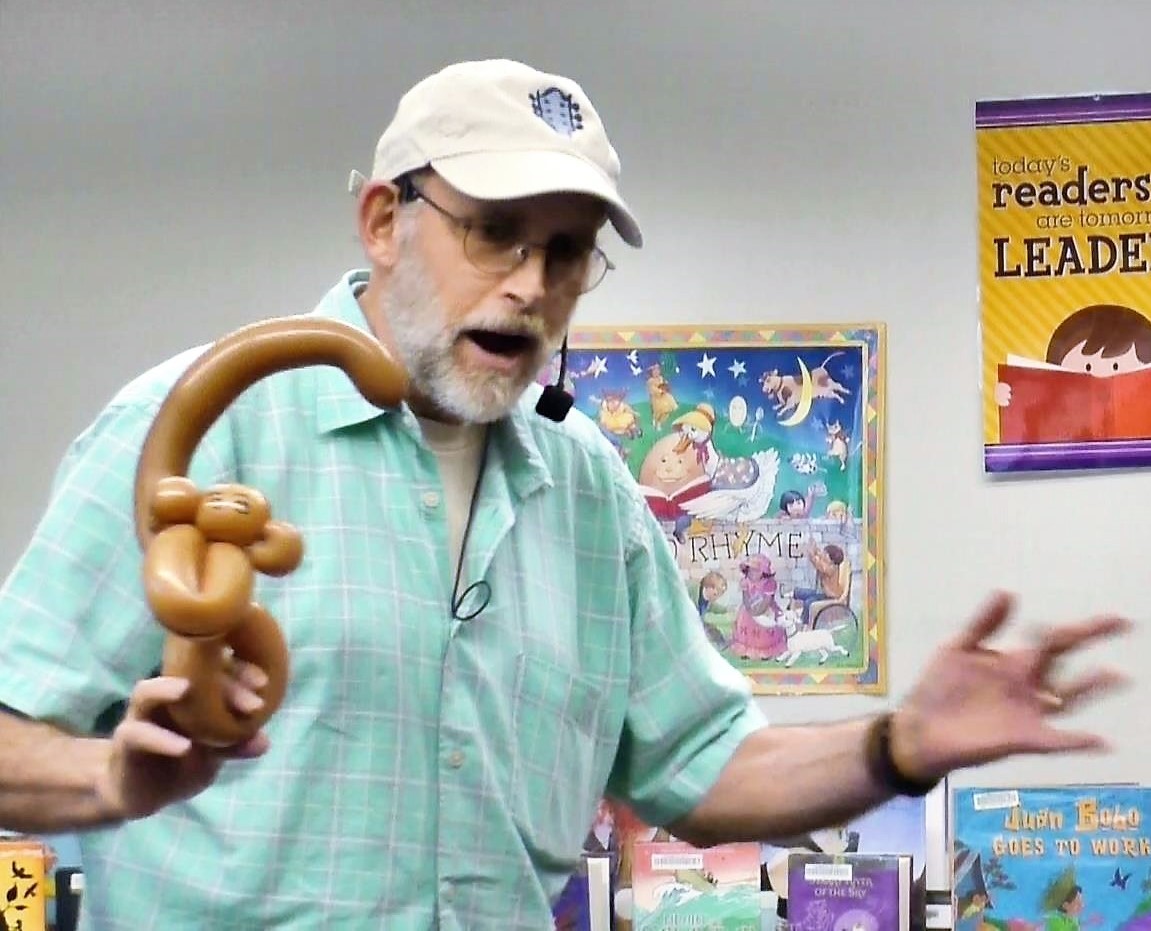 "TWISTING AND TELLING"
Jon often draws on his experience as a performing storytelling and folksinger to spice up the balloon making. He might tell a quick tale like "Daniel Boone's Split Dog" or "The Monkey and the Crocodile" as he makes those balloons, then use them as a storytelling puppet to finish the story. After Daniel's hunting dog, Blue is sliced in two by an old unseen sawmill blade and Daniel accidentally glues him back together with the back legs sticking up, Jon twists the balloon's legs around to show off the hilarious result!
If time and budget permit, Jon can be contracted to break up the balloon twisting sessions with more complete sets of stories, songs and even color slides. Jon weaves together folk songs, accompanied on guitar, banjo, autoharp, and other instruments with an assortment of multicultural folk tales. There are many opportunities for audience participation – through singing, movement, playing rhythm instruments, and responding verbally in different ways. For preschool aged kids he often includes a mascot puppet.
Jon has been performing folk tales and songs for over forty years across the United States, Europe and Latin America – with audiences of all ages and backgrounds – in Spanish as well as English. During much of that time he also worked as a children's librarian, doing hundreds of toddler and preschool storytimes. Through all those experiences he has learned to engage and entertain any group of children and adults.
"Jon was a delightful musician, storyteller and balloon artist for our 11 children ages 1-10! He was the pied piper to a group of young cousins who instantly fell under his spell. Jon was a highlight of our time together!"
– Susan Greene, family reunion coordinator,
Asheville, NC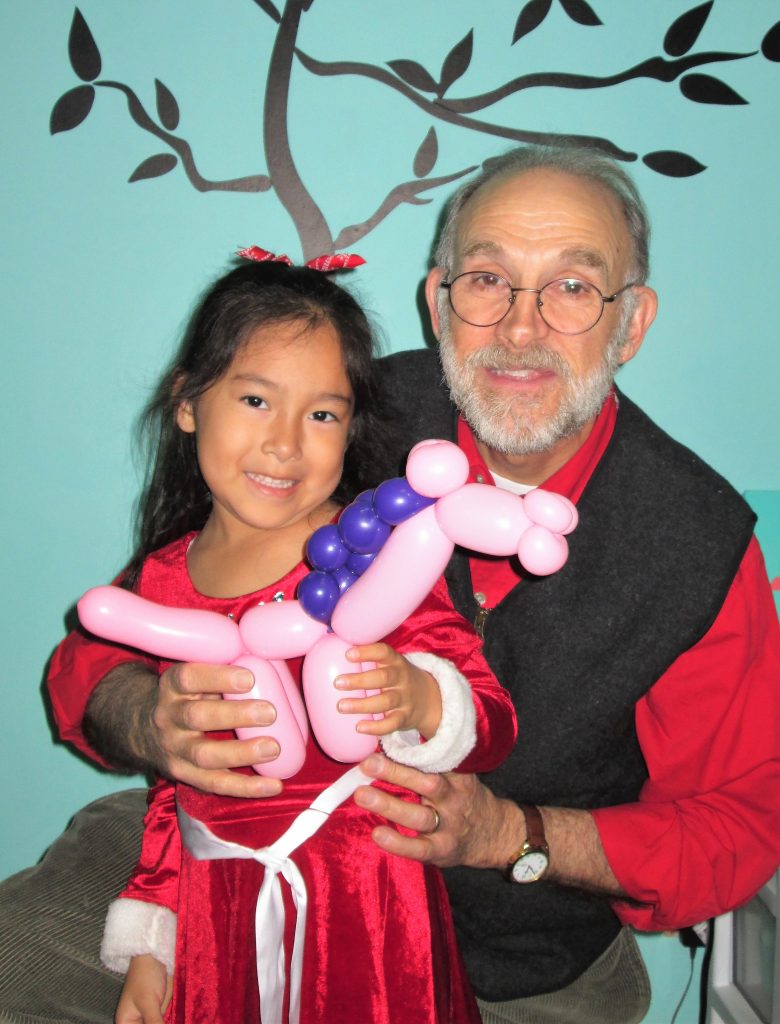 "Mr and Mrs Sundell managed our grand opening event very successfully. The price was reasonable and his performance was great. Our customers loved it, especially the music!"
– Mandy C, Boost Mobile cell phone store,
Winston-Salem, NC
"Jon was perfect for our Little Folk Festival. The kids loved interacting with him and the parents did too!"
Cindy Tuttle, executive director,
Stokes County Partnership for Children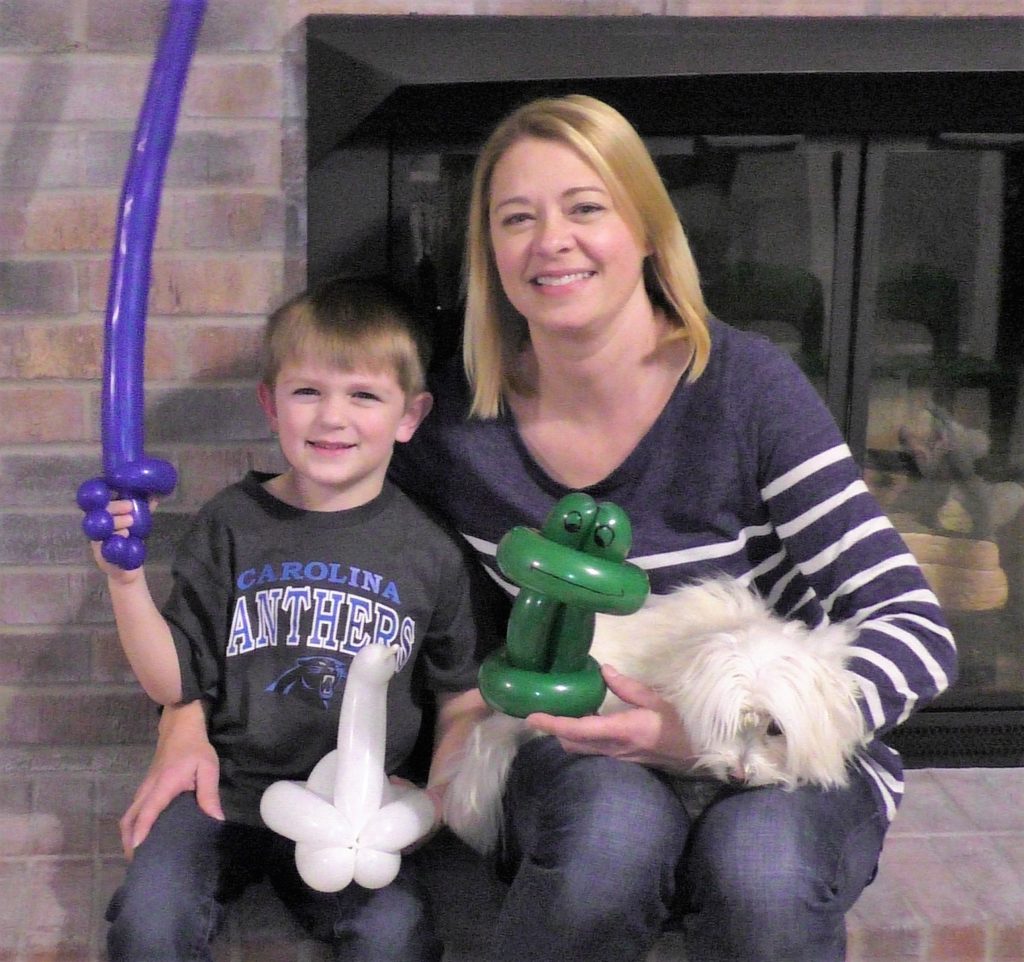 "Jon and Vivian did a wonderful job in singing and balloon making for my son's birthday party!! Glad they came out. We had so much fun!"
– Shirley L, Conover, NC