Jon Sundell "plays" an audience of children as well as he plays any of the instruments he brings to a concert. The pace is lively as he moves from song to instrumental to tall tale to sing-along, and the atmosphere is one of warmth and good humor where every child feels a part of the happening.
– Lynne Crocker, journalist, Arts Council of Wyndham County, VT
BIRTHDAY PARTIES
Jon specializes in PARTIES TO REMEMBER, using storytelling, folk songs and balloon figures to create parties that are not only lots of fun in the moment, but will make a deeper, more lasting impression on a child, his family and friends.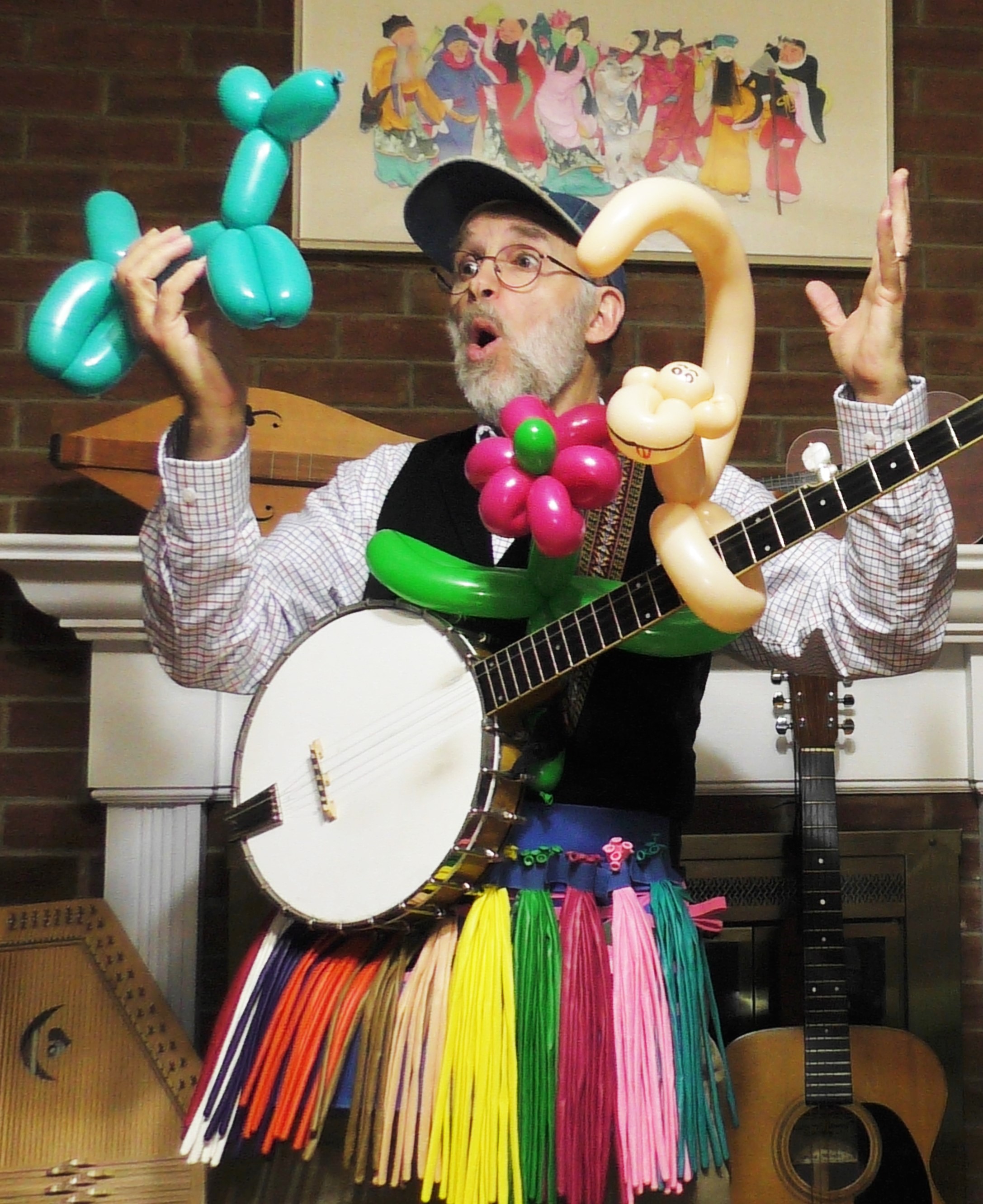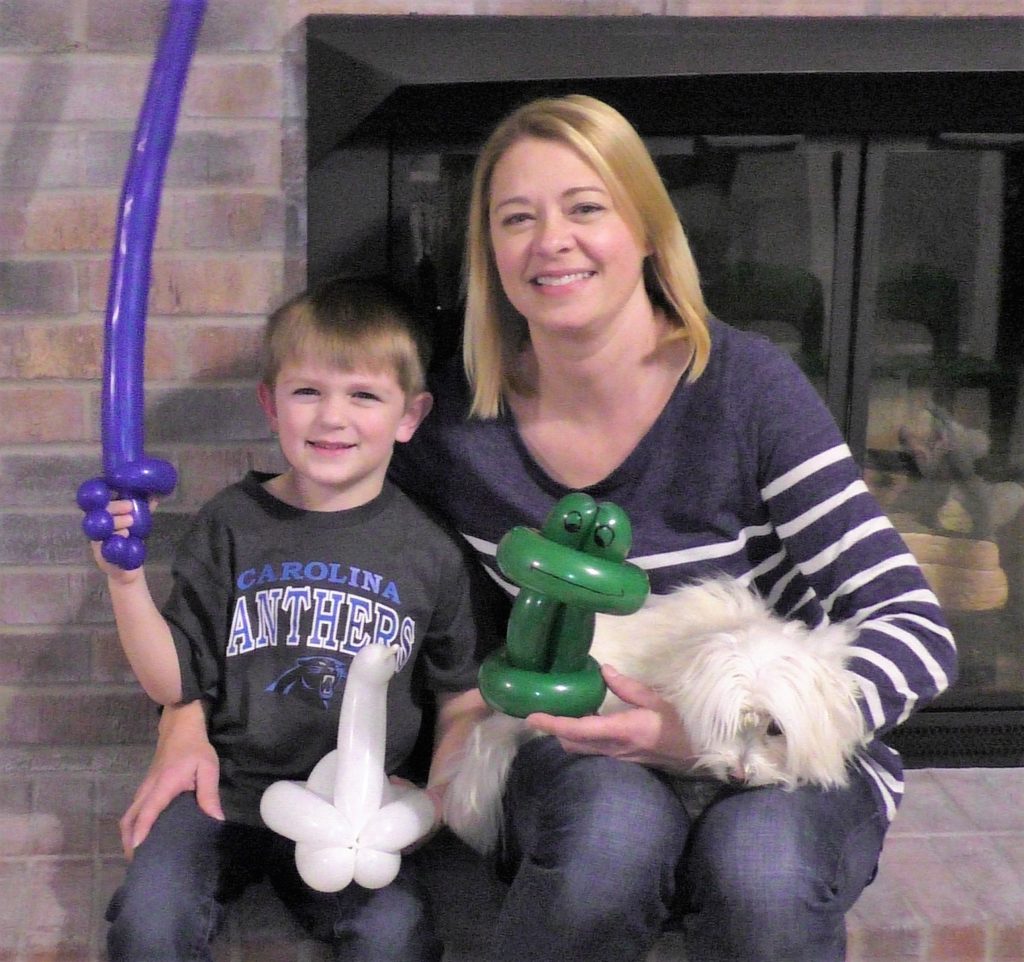 Jon did a wonderful job in singing and balloon making!!  We had so much fun!
- Shirley Lam, Conover, NC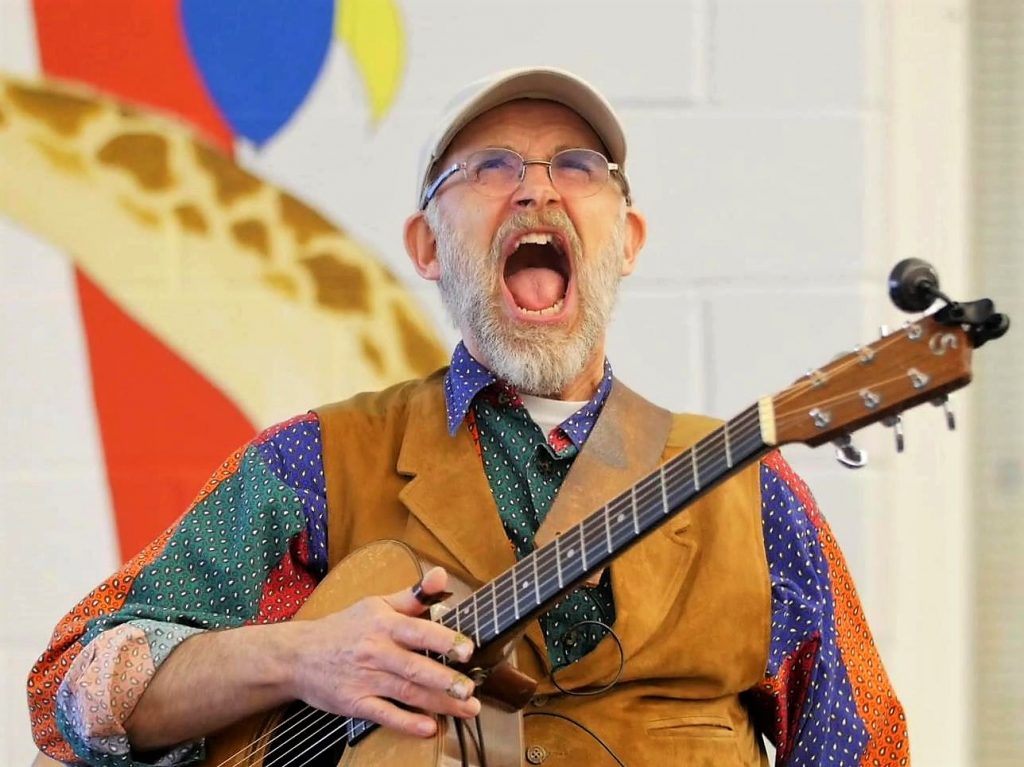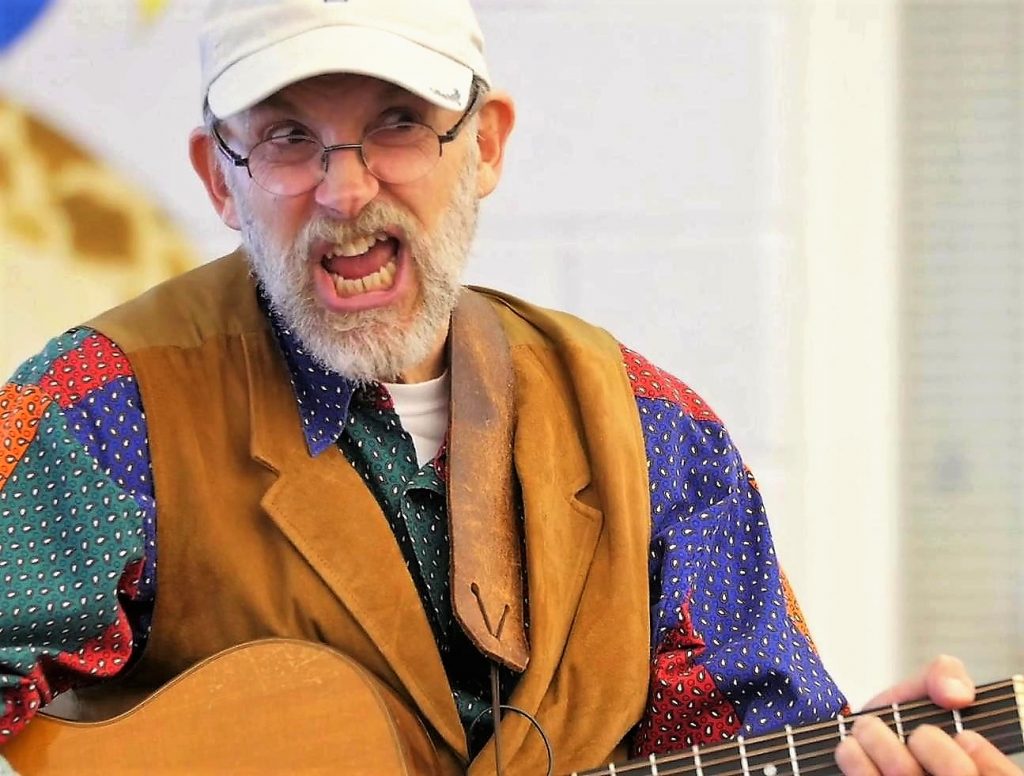 He and his wife, Vivian, have a beautiful collection of one and two balloon figures that are very popular, as is their warm, personal manner with the birthday child and guests. If you wish, they can come and just make personal balloons. But what makes a party extra special is  Jon's music and storytelling.
Jon weaves together folk songs, accompanied on guitar, banjo, autoharp, ukulele and spoons with multicultural folk tales, some of them told as he creates balloon figures, then uses them as a kind of storytelling puppet. There are many opportunities for audience participation – through singing, movement, playing rhythm instruments, and responding verbally in different ways. For preschool aged kids he often includes a mascot puppet. Afterwards, he and Vivian create personal balloon figures for the children, including ones used in the stories. The combination of stories, music, balloons and lots of participation is always a big hit!
For over forty years Jon Sundell has been sharing folk songs, tales and dances with children and families across the United States and several foreign countries – in Spanish as well as English. He also worked as an elementary school media coordinator for 10 years and as a children's librarian in the public library for 22 years, presenting well over a thousand music & storytime programs for 2-8 year olds and parents. Through those experiences he has learned to engage and entertain any group of children or adults.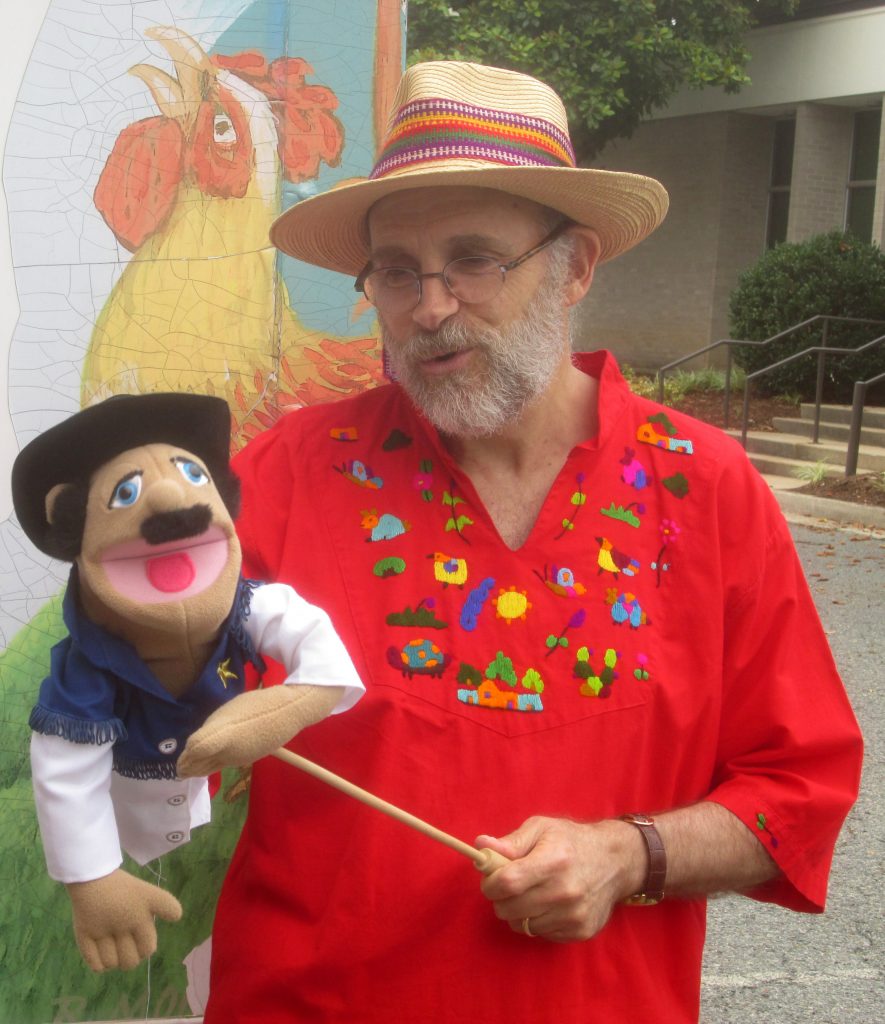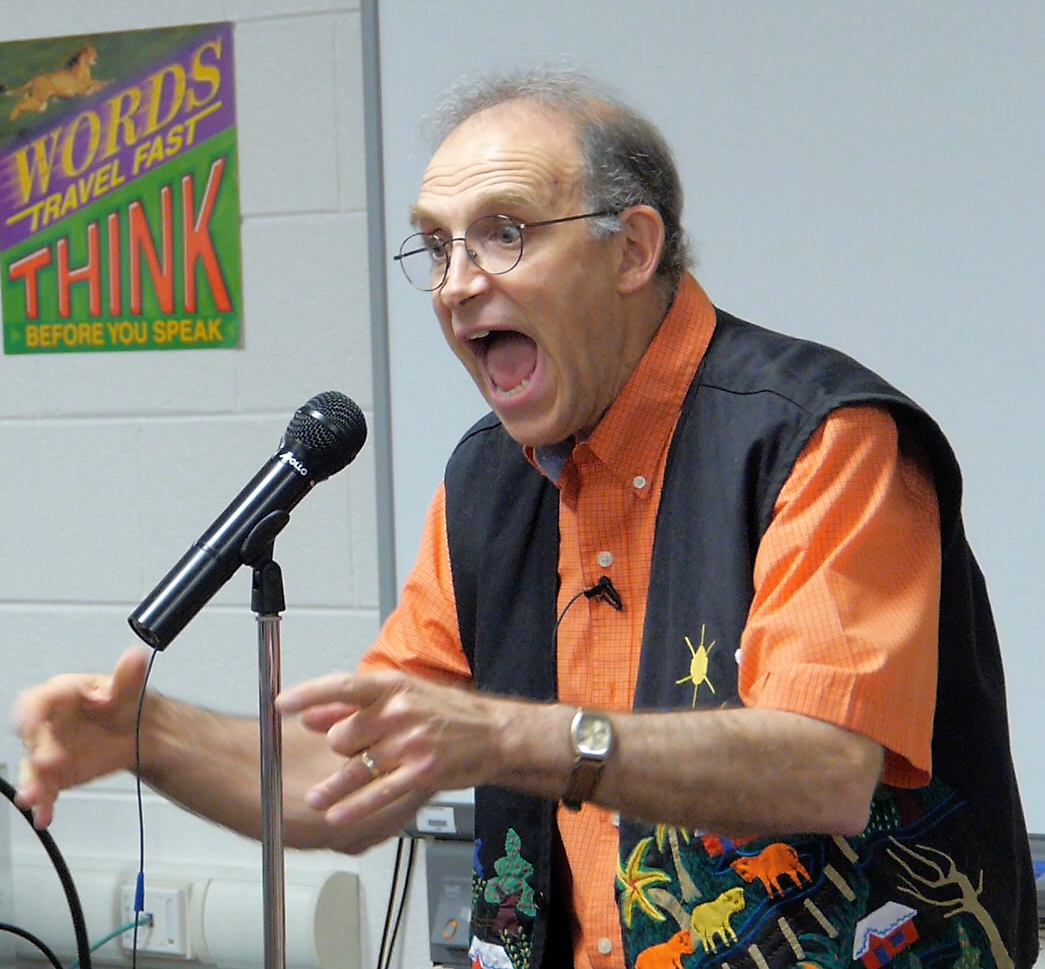 Great job!!!!  John and his wife were great for our 3 year old twins' birthday party. Kept the kids and parents engaged. Tailored the stories to the kids' age. Overall, they were wonderful!!!!
- Niyati Khanna
11 minute sampler of stories & songs, all appropriate for children & families & many suitable for adults as well. 01 - Introductory slides to Jon's studio recording of "My Daddy Rides That Ship In the Sky," by Woody Guthrie - with banjo; 00:35 - Making balloon dog, singing mountain song, "I Had a Dog and His Name Was Blue;" telling tall tale of "The Split Dog" using balloon dog; 3:18 - call & response song - "We're All A Family Under One Sky," by Ruth Pelham - with guitar; 4:02 - African trickster tale - "Anansi and the Hat Shaking Dance;" 6:35 - Story-song with banjo - "Cumberland Mountain Bear Chase;" 9:08 - Irish folk tale, "Jamie O' Rourke and the Big Potato," as told by Tomie de Paola; 9:52 - Latin American folk song with motions - "En la pulga de San Jose"
     "Jon was a delightful musician, storyteller and balloon artist for our 11 children ages 1-10!               He was the pied piper to a group of young cousins who instantly fell under his spell. Jon was           a highlight of our time together!"


      - Susan Greene, family reunion coordinator 
For ages 2-6. Song & tale excerpts  + a singing game, and one "twist-&-tell" story  (1) Introductory slide show to studio recording of "My Daddy Rides That Ship in the Sky," by Woody Guthrie, with banjo; (2) "The Green Grass Grew All Around" - call & response song with motions, guitar; (3) "Cleano," by Woody Guthrie, with banjo; (4) "I'm Gonna Tell," by Rosalie Sorrels, with guitar; (5) "The Lion & the Mouse," Aesop's fable with finger puppet; (6) "Love Grows One By One," by Carol Johnson; (7) Story-song version of folktale, "Stone Soup," by Heather Forest, with audience input, guitar; (8) "Grandma Moses Sick in Bed," African American singing game; (9) "We're All a Family Under One Sky," by Ruth Pelham, with guitar; (10) "Anansi & the Pot of Beans" - African trickster tale; (11) "I Wish I Was a Mole in the Ground," mountain folksong, with banjo - children making up new verse; (12) "Twist-&-tell" story, "Solomon, Sheba & the Bee," told while creating balloon flower; (13) "When I First Came to this Land," by Oscar Brand, with autoharp; (14) "En la pulga de San Jose" - Spanish language motion song of playing musical instruments, with guitar.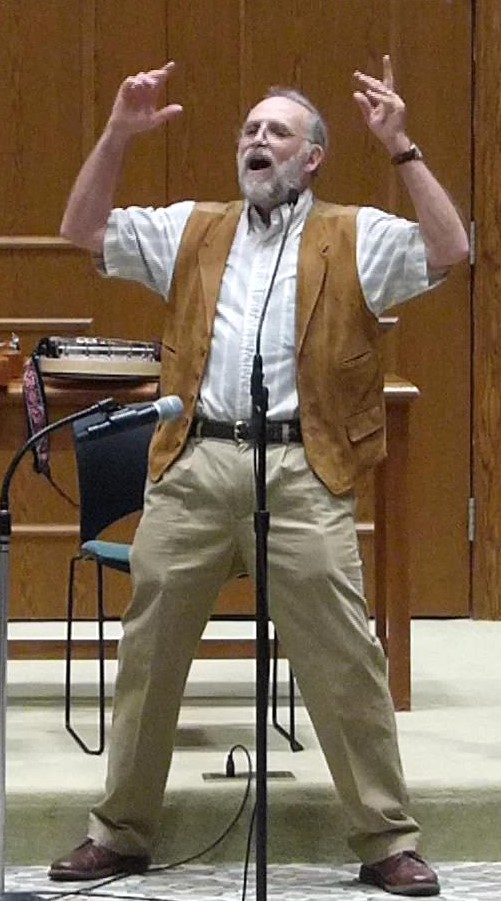 Performance – For such a momentous occasion as a wedding, why not celebrate it with memorable entertainment? Something that honors the beauty and depth of this event while also relieving the stress with humor and fun. Jon has developed an exciting set of multicultural songs and tales on the themes of love and marriage. They run the gamut in origin, style and mood, providing opportunities for thoughtful reflection as well as moments of comic relief. Jon can perform one or two pieces as part of the wedding ceremony, in a set as part of the reception, or as interludes in a square dance.
Square Dance – There is no better way to celebrate this wonderful occasion than through a rousing square dance. It is an exhilarating way of stirring the social pot - mixing together people from different sides of the couple's lives in a spirit of fun and cooperation. Children from 8 or 9 years up can participate, and younger ones can tag along in different fashions.  Interludes in the dance provide a great opportunity for Jon and the band to present an assortment of thoughtful and humorous folk songs and tales on the theme of love and marriage, as is described above.
Video sampler of Jon leading North Carolina square dances for seniors and staff at YMCA Camp Cheerio and Camp Caraway Retreat Center. Introductory photos are from an elementary school family event. The band is shown playing at Camp Caraway. Sequences 1 & 2 give a good view of how Jon starts off a group from scratch and gives them basic instruction. (1) Thread the Needle Warm-up dance (no instructions needed); (2) Appalachian Big Circle Dance, with "Right & left hand star" and "Birdie In the Cage" figures. Fairly complete instructions shown + dance excerpts with music; (3) Virginia Reel - Fairly complete instruction shown + two turns of the dance with music. Jon uses a humorous touch to get the side couples assisting the lead couple. He also steps in to
help the 2nd lead couple when they get lost. (4) Dip & Dive - Partial instruction shown + one turn of dance; (5) Appalachian Big Circle, including "Take a Little Peek" and "Mountaineer Loop" figures in small circles & "Thread the Needle" as a big circle wrap up. No instruction shown. One turn each of small circle figures shown + excerpt of wrap up. Notice the shot of audience members clapping along - everyone joins in the fun!; (6) Last waltz. This is done free style without instruction.Seniors especially enjoy doing an old fashioned slow dance. This couple certainly does!