"Martyn and I thought your concert/ square dances went extremely well, and we really enjoyed your performances as well as your demeanor with the senior adults. Thank you so much for the work you do and providing a great and entertaining experience for the senior adult campers this fall at Cheerio!"
– David McDonald, Program Director, YMCA Camp Cheerio, Glade Valley, NC
CONCERTS
Jon Sundell has a special appeal to seniors because many of them remember the old folk, bluegrass and country songs he sings, and they enjoy revisiting them. Some recall going to see AP, Sarah and Maybel Carter at their local schoolhouse, and hearing them sing "Keep On the Sunny Side." Or sitting around the radio listening to early stars of the Grand Old Opry like Uncle Dave Macon, Roy Acuff and Grandpa Jones. Filling their church with old time gospel songs and hymns. Jon brings back memories as he shares those songs and invites the audience to join him, fingerpicking his acoustic guitar and lush autoharp, "frailing" the brightly ringing banjo, and plucking his gentle mountain dulcimer. Seniors also relish hilarious tall tales like "Daniel Boone and the Split Dog," told as Jon creates and brings to life a balloon figure of Old Blue. Or like the Cajun Possum that plays dead, then eats up the stew he's lying in and escapes to reclaim his hide from Zebbi, the fur trader!
Like many early country artists Jon is an old school entertainer and "raconteur," combining dynamic showmanship with a warm, personal manner and homespun humor. His large repertoire and varied instrumentation enable him to easily engage his listeners and keep them entertained from start to finish. But whenever it suits the audience, he likes to add in some less familiar elements that honor their wisdom and stretch their experience. Being a senior himself helps Jon make a strong connection and strike a deeper chord. He might delve into history with the true story of John Henry, the legendary railroad man who raced a steam drill, or the wry prairie folk song, "Starving to Death on a Government Claim" about the midwestern Homestead Act. He likes to tell a tale or two for serious reflection, like a wisdom or wonder tale from the Middle East, Asia, Africa or Latin American. He might share a stark ballad from the coal mines or "Something in the Rain," a deeply touching song about a migrant farm worker child whose little sister is dying from pesticide poisoning. The extensive video sampler embedded here gives prospective hosts a chance to view a variety of song and story types and express any preferences for Jon's performance.
Sample songs:
Keep On the Sunny Side
Life's Railway to Heaven
My Grandfather's Clock
The Storms Are On the Ocean
The Devil & the Farmer's Wife
West Virginia Mine Disaster
My Name is Morgan, But It Ain't JP – Bill Morgan's gal spends too much money!
How Do I Know My Youth Is All Spent? – How do I know my youth is all spent?/ My get-up-and-go has got up and went./ But in spite of it all, I'm able to grin,/ To think of the places my get-up has been."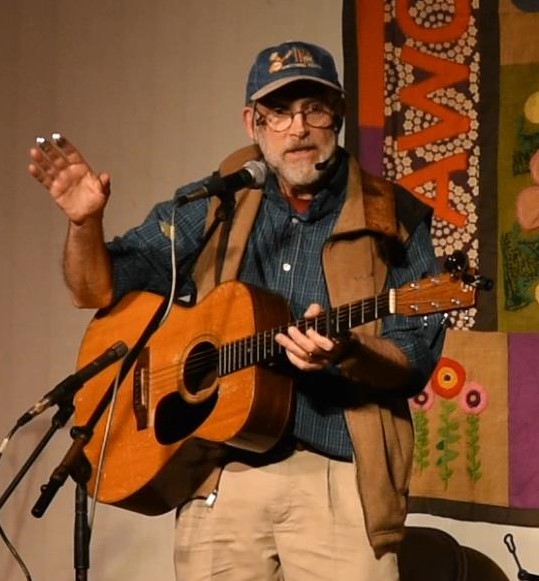 "A very memorable 60th wedding anniversary celebration! Jon exceeded my expectations in providing my friends with an outdoor performance of country music and stories from their front lawn in Twin Lakes Retirement Community. Jon came with two banjos, a dulcimer and an autoharp, with which he entertained the 'almost newly-weds', friends, family and neighbors with old time music, including songs from the Grand Old Opry. I admit that I was uncertain if Jon would be able to entertain folks in their mid-80s and 90s, and the answer is a resounding yes! I highly recommend his services." – Beverly T, Burlington, NC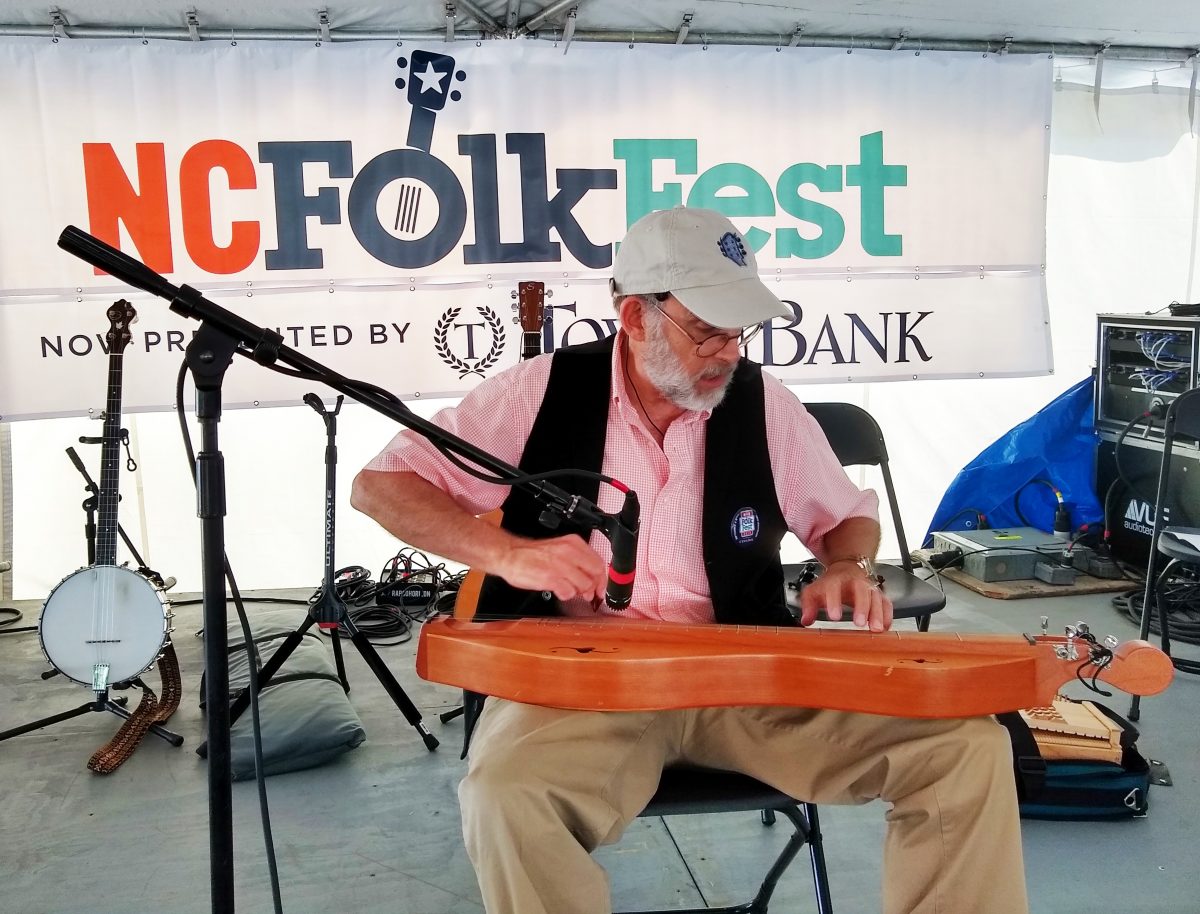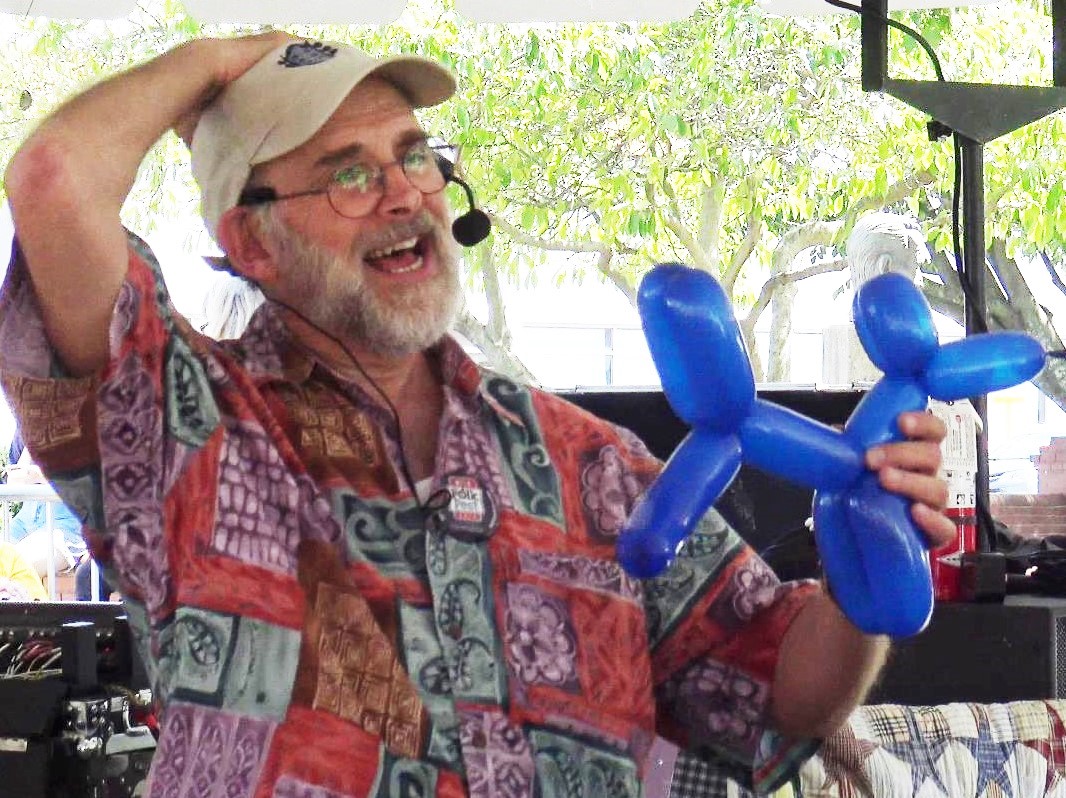 Sample tales:
The fools of Chelm – A series of short, hilarious Jewish tales about a village of fools.
Tia Miseria – With the help of a magic spell Aunt Misery is able to trap the neighborhood bullies and Death himself up in her favorite pear tree.
The Cajun Possum – In this Louisiana tall tale a "dead" possum eats up the stew, escapes from the oven, and reclaims his hide!
Nasrudin Hoja and the Hungry Coat – At his banquet the wealthy muchtar only honors the Hoja when he is elegantly dressed. So the Hoja embarrasses his host by "feeding his clothes first," slathering them with the banquet's messiest food.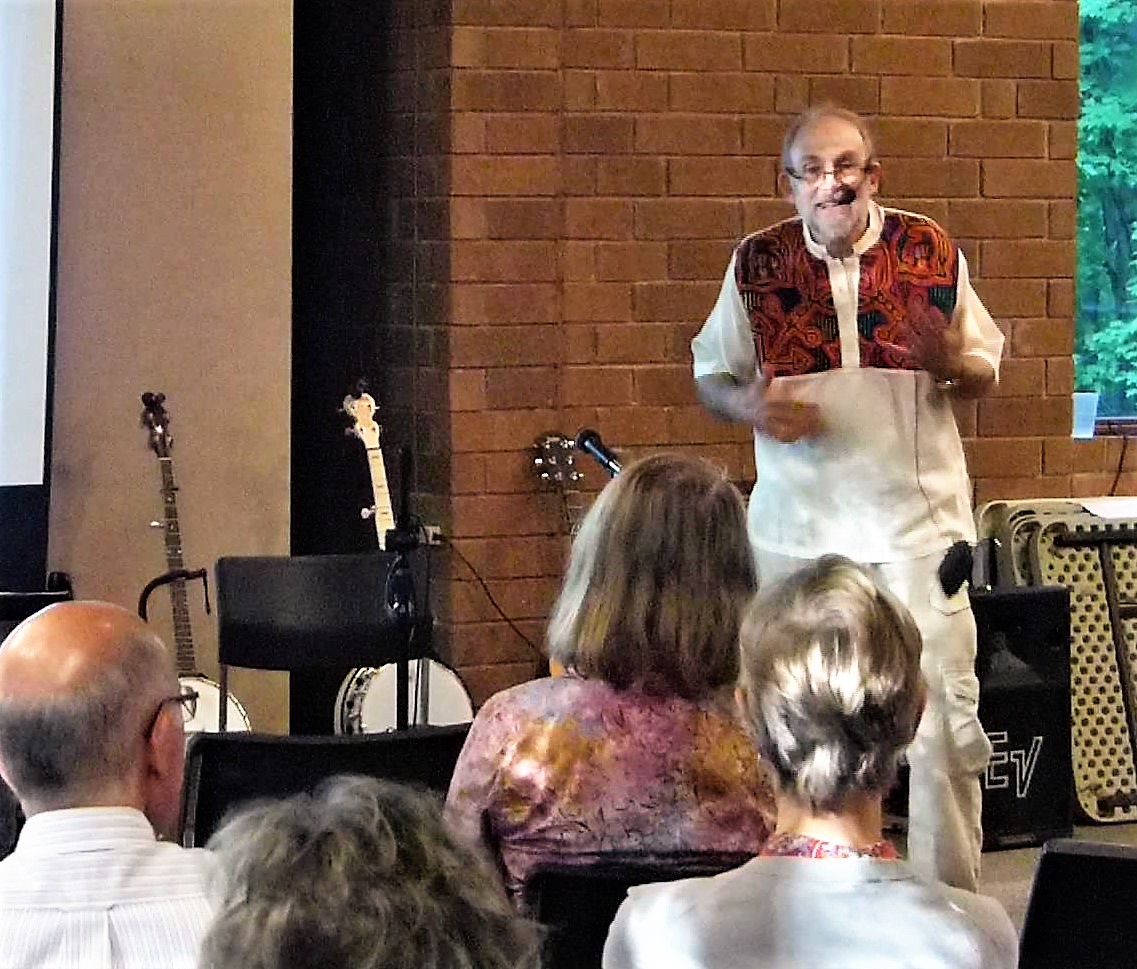 "Jon Sundell displayed his large repertoire of songs, ballads, and dance tunes with a warmth and sincerity that made you feel as if you were in your own living room sharing in an evening session. His stories sparked grins and chuckles throughout the audience and quickly dispelled the barrier that usually exists between performer and audience." – Barbara Zavon, University of Cincinnati Folk Arts Society, Cincinnati, Ohio
Video sampler showcasing Jon's skills and broad repertoire for this audience. (1) 0.05 Old Blue Medley with balloon figure: Song – "I Had a Dog and His Name Was Blue"; Tall tale – "Daniel Boone and His Split Dog"; (2) 3:19 Carter family theme song – "Keep On the Sunny Side," with autoharp; (3) 4:52 Appalachian ballad – "The Devil and the Farmer's Wife," with banjo; (4) 7:57 Appalachian folk song – "The Devil's Nine Questions," with mountain dulcimer; (5) 9:38 Traditional folktale – "Steamer and the Mule Egg"; (6) 12:48 Traditional ballad – "The Cumberland Land," acappella; (7) 14:41 Prairie folk song – "Starving To Death On a Government Claim," with guitar;
(8) 16:52 John Henry – the legend and the true story, with banjo; (9) 20:44 Mexican wonder tale – "Tia Miseria"; (10) 25:54 Folk song by Tish Hinojosa – "Something In the Rain," with guitar; (11) 32:18 Turkish Wisdom tale – "Nasrudin Hoja and the Hungry Coat"; (12) 36:24 Folk song – "My Get Up and Go Has Got Up and Went," with autoharp.
"Many people are adept at playing musical instruments, but you have a special gift to  hold an audience. There was never a lull in the audience's attention during the entire performance. Without getting a headache, we learned about early American instruments, literature, and history. Perhaps more important, you were able to create a communal feeling for participation. No one felt they had to be involved, but everyone wanted to be."
– Melba Aberson, Dunwoody Hills Country Club, Dunwoody, GA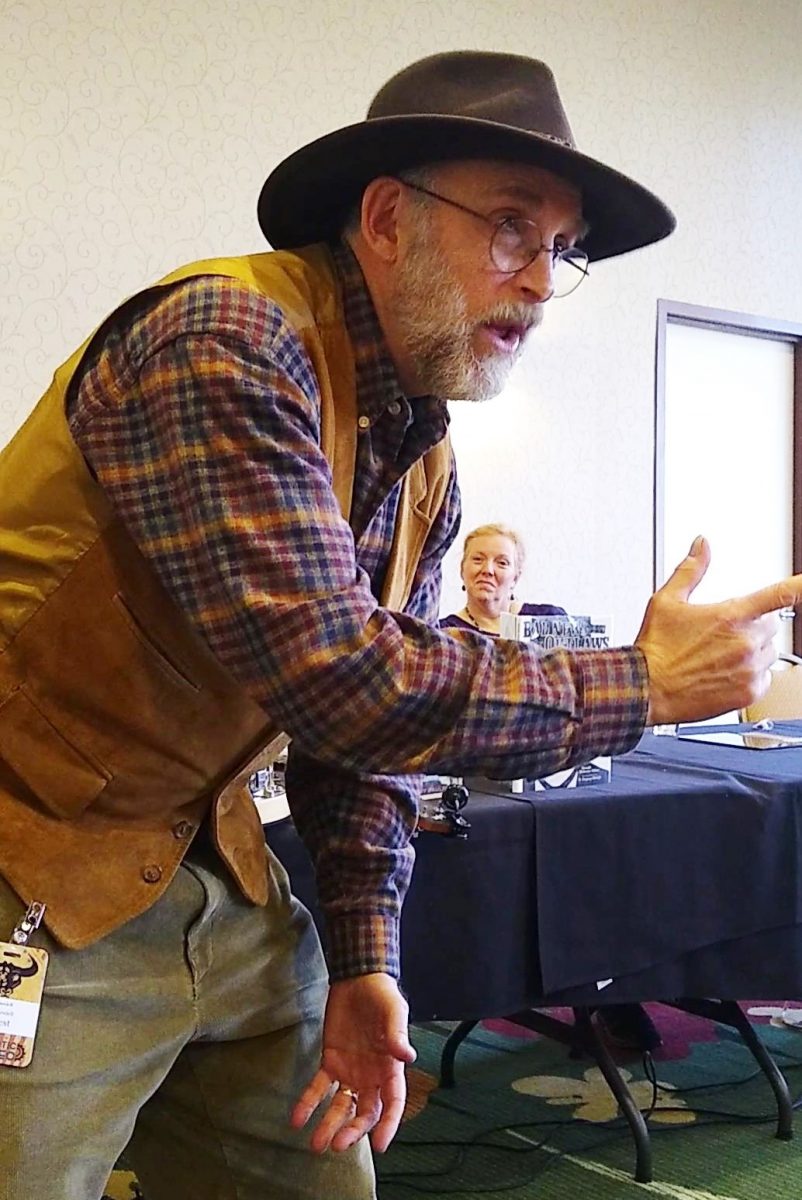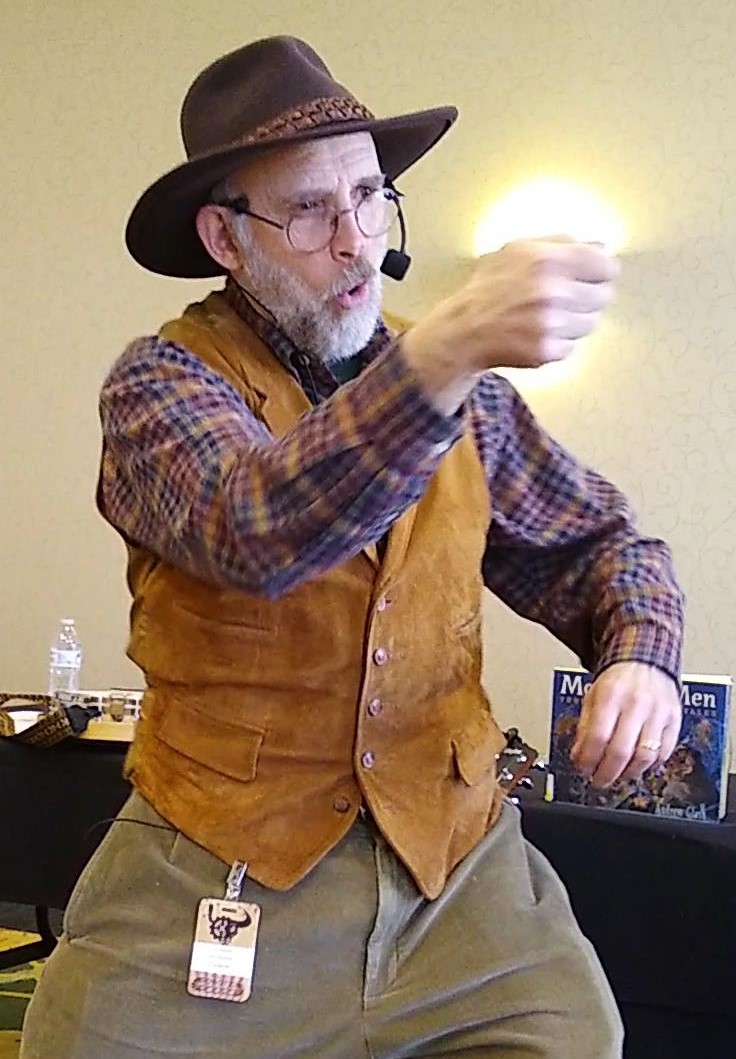 WORKSHOPS
Seniors explore and share their personal stories – By using a variety of prompts evoking recollections of important people and places in their past, Jon helps seniors revisit experiences in a vital way. They begin to remember not just "what happened," but how it impacted their senses, their feelings and sometimes their way of looking at life. Rediscovering and sharing these stories with others has many benefits, such as strengthening social relationships, supporting mental acuity and providing personal satisfaction.
Instrument lessons – Jon can provide group or private instruction on guitar, mountain dulcimer, autoharp and five string banjo.
Periodic sing-alongs – Jon can lead singing and rhythm accompaniment on old familiar folk and gospel songs. This is a wonderful activity for residents in assited living, including those experiencing dimensia.
"Jon Sundell communicated more than the music and more than his enthusiasm for the Appalachian culture which produced it. He left the audience profoundly moved and with a sense of having shared in an aesthetic, conceptual, and musical adventure. An unforgettable evening!"

– Lisa Null, Folk Cabaret, New Canaan, Connecticut
SQUARE DANCES
As well as his concerts, Jon's square dance events are very popular with seniors because of his patient, thorough manner, ensuring everyone can follow along. At the same time, he uses humor that puts folks at ease with making mistakes. He makes it clear that the important thing is not getting the moves perfectly, but having fun and connecting with others.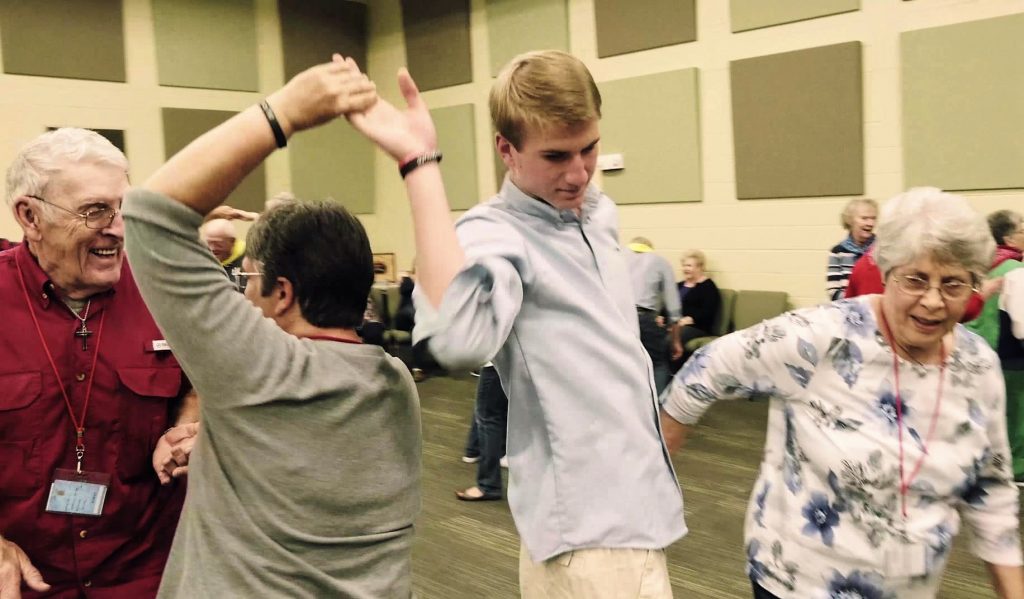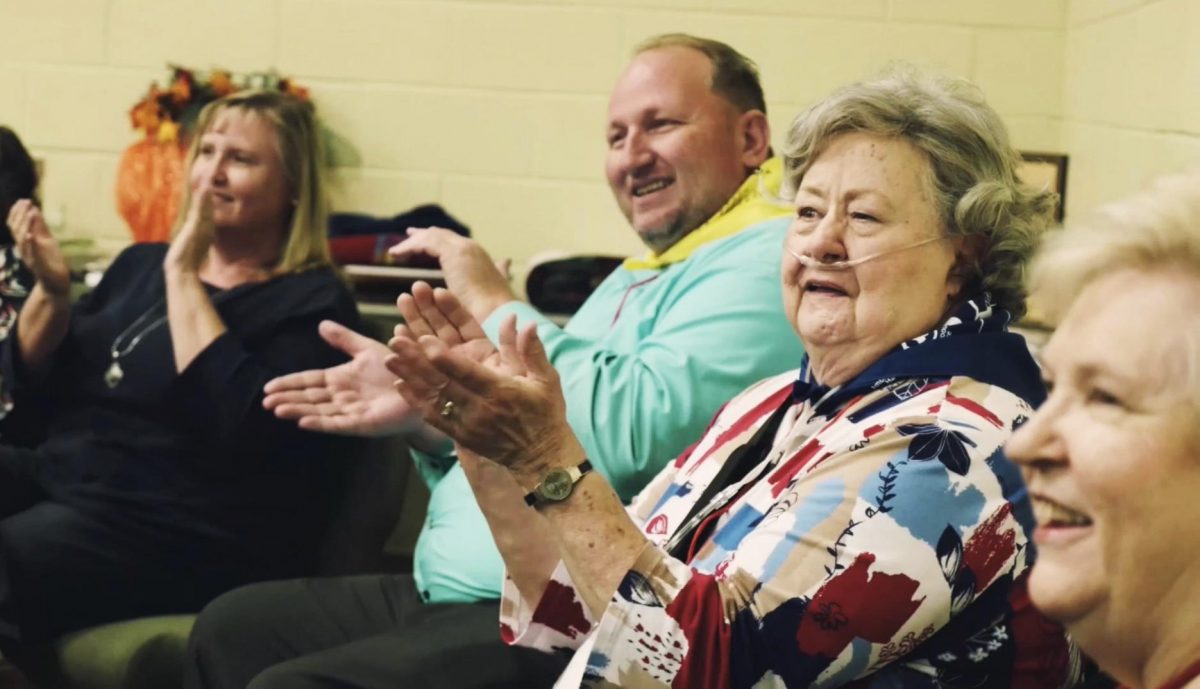 The combination of lively music, physical activity, and social interaction is great for lifting spirits and creating a sense of community. Jon specializes in teaching complete beginners, although those with experience are certainly welcome. Dancers love the challenge of working together to perform different figures like the big basket, thread the needle, mountaineer loop or birdie in the cage. A live band helps create an authentic, exciting ambience, but if your budget is tight, Jon can also lead a dance using recorded music.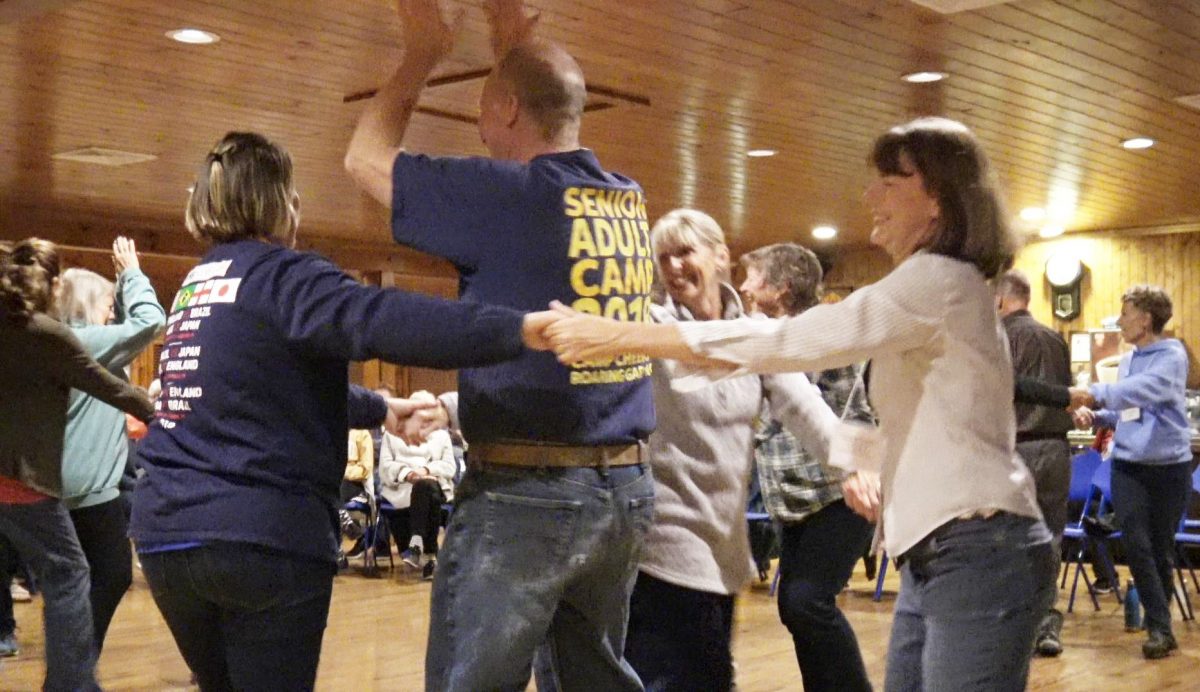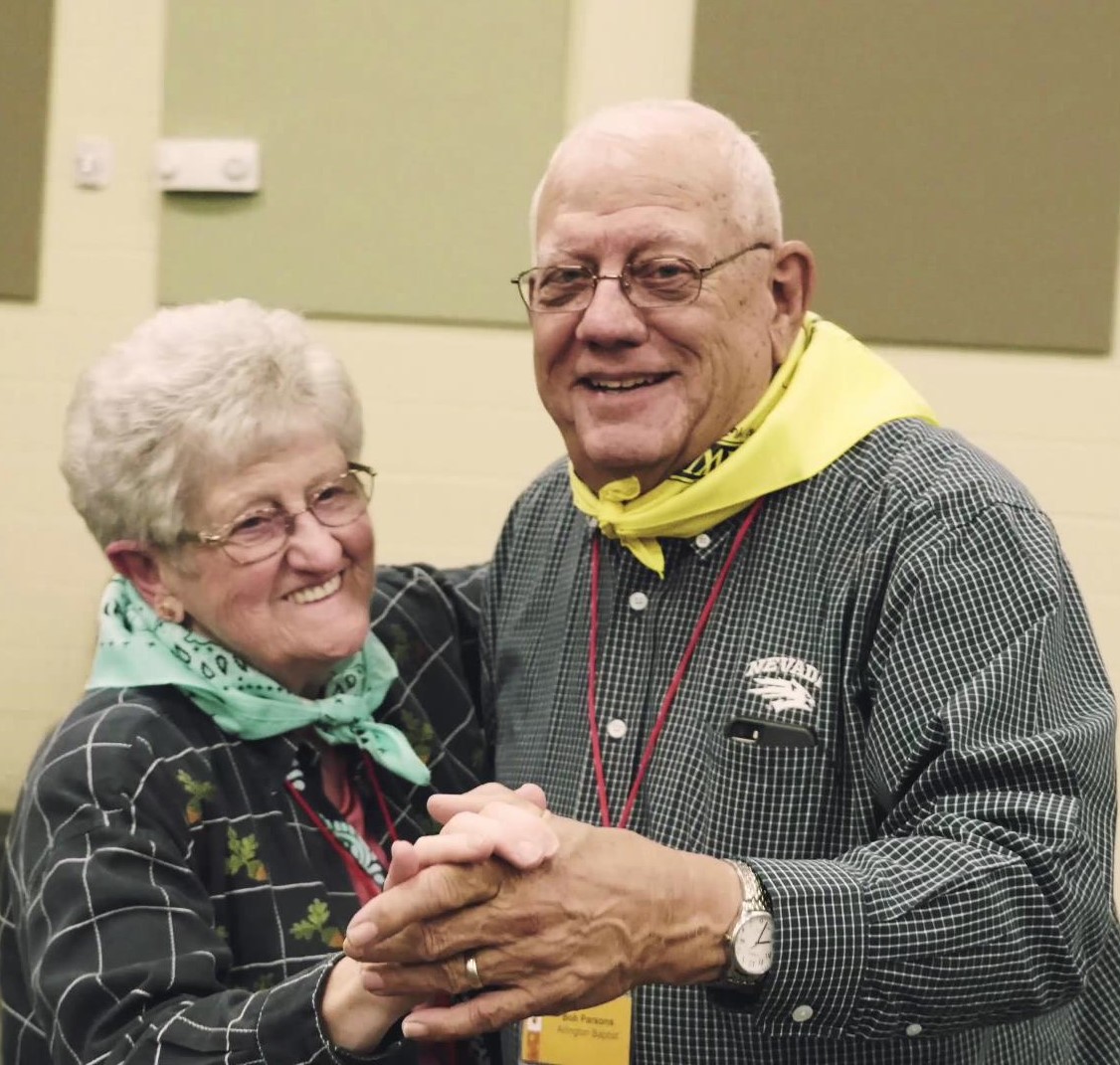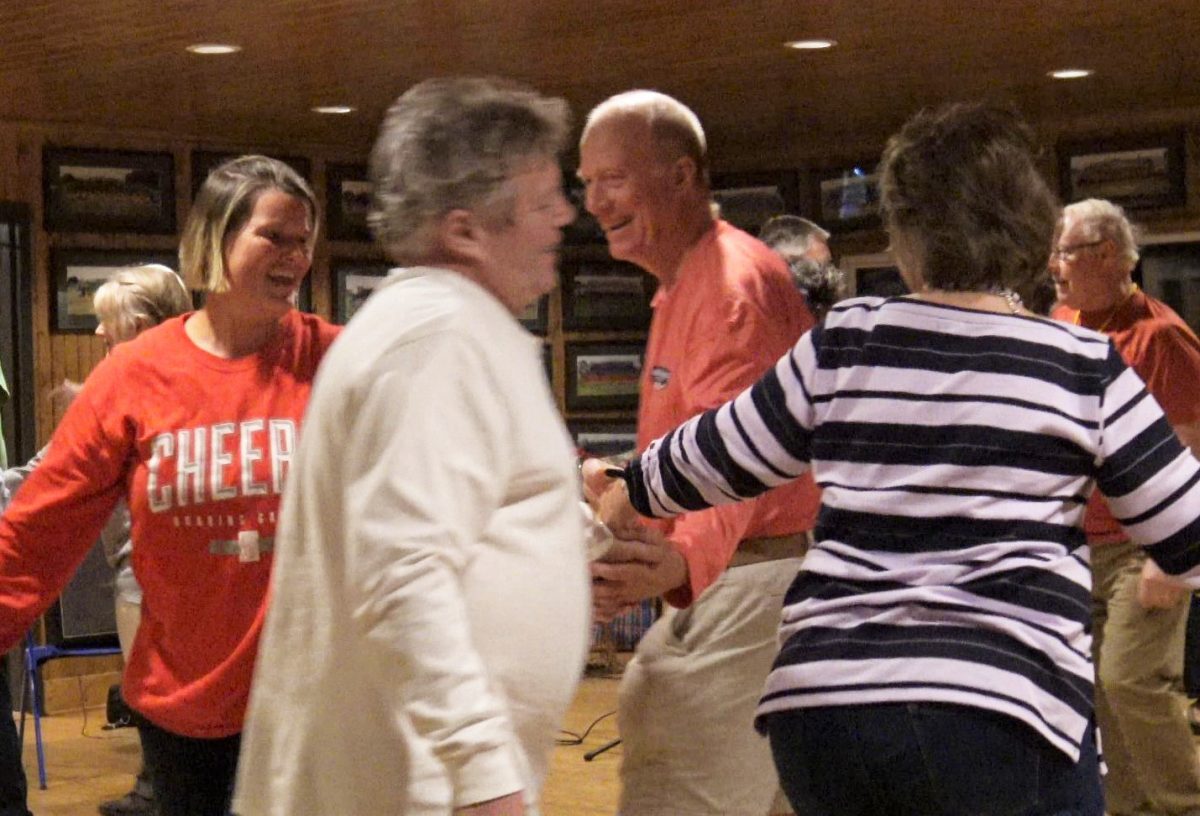 Jon enhances the experience by breaking up the dancing with several interludes of music and storytelling that entertain everyone present. Dancers get plenty of chance to rest, and those who are sitting out also get to share in the fun.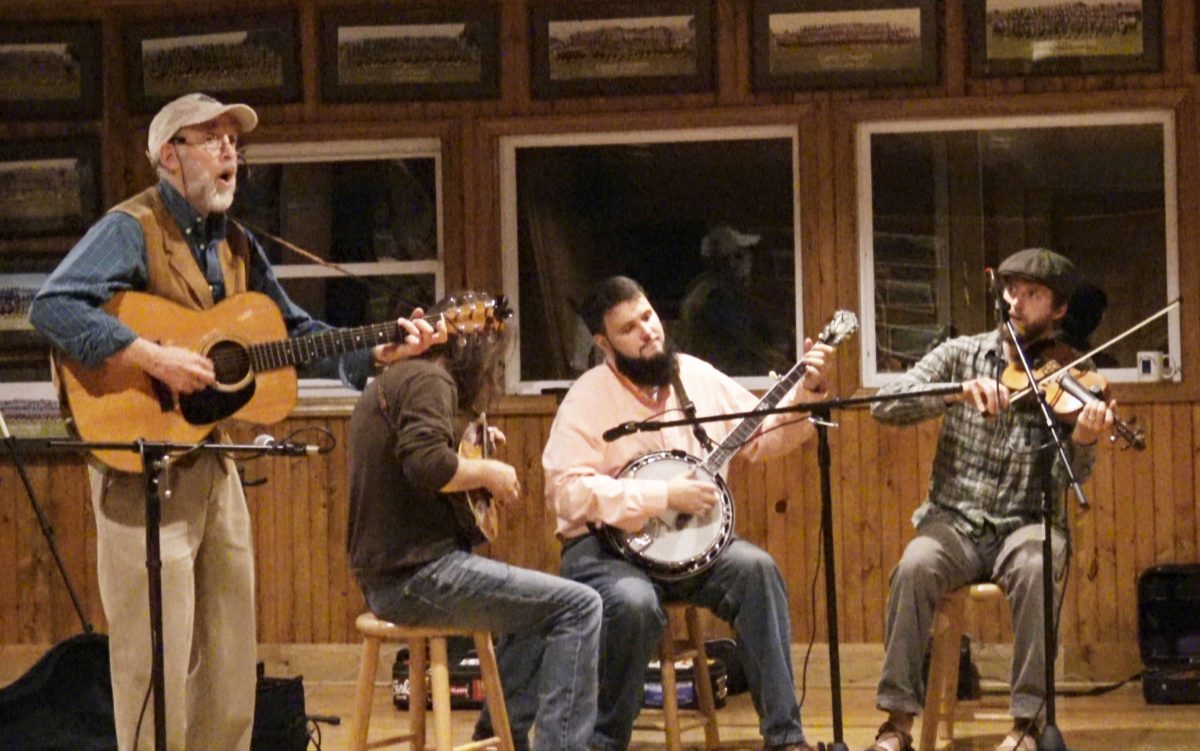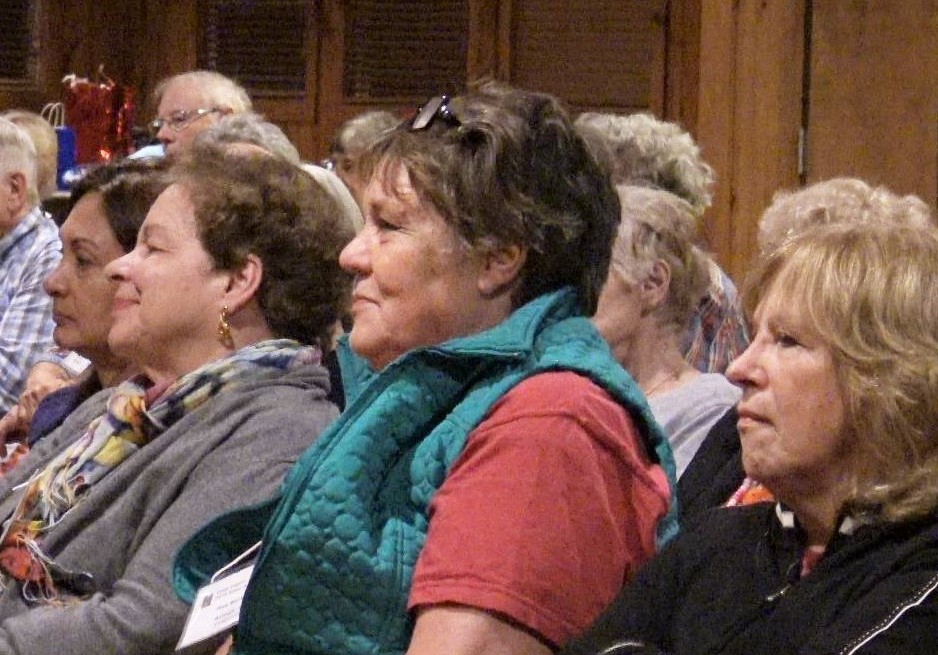 "You did a great job! You balance the fun of dancing and stories with the serious attention needed for instruction. You guys were the best group we have had in many years!"
– David McDonald, Program Director, YMCA Camp Cheerio, Glade Valley, NC
Video sampler of Jon leading North Carolina square dances for seniors and staff at YMCA Camp Cheerio and Camp Caraway Retreat Center. Introductory photos are from an elementary school family event. The band is shown playing at Camp Caraway. Sequences 1 & 2 give a good view of how Jon starts off a group from scratch and gives them basic instruction. (1) Thread the Needle Warm-up dance (no instructions needed); (2) Appalachian Big Circle Dance, with "Right & left hand star" and "Birdie In the Cage" figures. Fairly complete instructions shown + dance excerpts with music; (3) Virginia Reel – Fairly complete instruction shown + two turns of the dance with music. Jon uses a humorous touch to get the side couples assisting the lead couple. He also steps in to help the 2nd lead couple when they get lost. (4) Dip & Dive – Partial instruction shown + one turn of dance; (5) Appalachian Big Circle, including "Take a Little Peek" and "Mountaineer Loop" figures in small circles & "Thread the Needle" as a big circle wrap up. No instruction shown. One turn each of small circle figures shown + excerpt of wrap up. Notice the shot of audience members clapping along – everyone joins in the fun!; (6) Last waltz. This is done free style without instruction. Seniors especially enjoy doing an old fashioned slow dance. This couple certainly does!